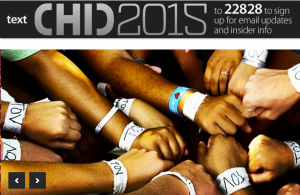 Be among the first to know what the CHIC Office has in store for CHIC 2015! Sign up for the CHIC 2015 Newsletter – sent the 15th of each month!  (get it?)
By subscribing to the CHIC 2015 Newsletter, each month we will include one or more of the following: first-to-know information regarding things like dates, costs, location, speakers, bands, theme and more; fundraising tips; links to related ministries; updates regarding the work being accomplished as a result of the Covenant World Relief Offering collected at CHIC 2012; and more things as we come up with them and as we hear from you!
Click here to subscribe to the monthly Youth Worker Update and the CHIC 2015 newsletter! And be sure to forward the newsletters to others and encourage them to subscribe themselves.
Stay connected and share with others!