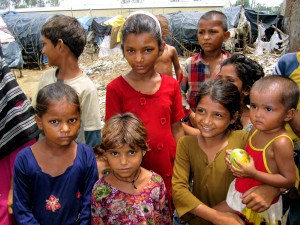 Mission trips are being planned to follow the CHIC 2012 offering for Covenant Kids. Your group or individuals from your group can experience first-hand what God is doing to bring hope through Covenant Kids ministries in Colombia and India.
Colombia is a country that has been at war with itself for decades. 2-3 million people are internally displaced, forced to leave their homes in small towns and countryside to live in the slums of large cities. They arrive in these crowded communities without job skills and unable to support their families. Many children live with the realities of over crowded schools and aggressive gang activity. The Covenant Church of Colombia is bringing light into these dark areas with education, safe after-school opportunities and caring adults who know each child by name. During Spring Break 2013 you can travel to Bogota and Medellin, Colombia to work with these ministries to children and come alongside the work of the church.
Nagina is a 7 year old living in the slums of Pune, India. She goes to work in a factory each morning to earn money for her family. In the afternoons she is able to attend a kids club provided by the Hindustani Covenant Church. There she learns how to write and read letters, personal hygiene and songs about Jesus. She is hopeful that she can enroll in the school just outside their slum and not have to work each day. In Summer 2013 your group can travel to India to meet girls like Nagina and the thousands of others who are cared for by Hindustani Covenant Church and India for Christ Ministries.
For more information about these and other mission opportunities contact Covenant World Mission by calling 773-907-3309 or writing: covenantkids@covchurch.org