Aune Carlson – Youth & Young Adult Ministry Coordinator – Illinois
Hello to my old, new, and not-quite-yet youth worker friends!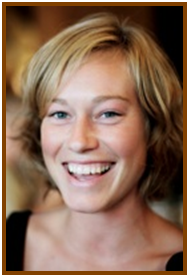 There have been a lot of changes in the past few months and honestly, this is probably the best time to be the "new kid". No one knows where all the supplies are, which stairwell is more efficient to take to get to the SW corner of the 3rd floor, or where to go to eat lunch! I'm loving this.

Just a couple short weeks ago I joined the staff of 8303 W. Higgins (note the new address of the Covenant Offices – yep, all of 'em, in one spot!). More specifically, I joined the staff of the Christian Formation Department. My position (Youth & Young Adult Ministry Coordinator) is also new. As such, I am working directly with Marti Burger "to lead toward improved and even more effective ways for the Department to engage in transformational and holistic ministry among youth and young adults. Innovation in the area of young adult ministry as a particular focus, while maintaining strength in the youth ministries already in place."I will also be collaborating with the Events Office staff – especially regarding Connection, The FEAST, and CHIC.
Truthfully, I it is my desire to minister to the Church in tangible and meaningful ways. I intend to use my gifts of administration, discernment, and hospitality to strengthen relationships and empower others to use their God-given gifts for God's glory and neighbors' good.
So, who is Aune Carlson, really? I am originally from Grand Rapids, Michigan (First Covenant, woot woot!). Only daughter of Mark & Trix (Therese), and favorite sister to Kevin & Nels. West Michigan was a wonderful place to grow up and I love my times back home. This may take a while at this pace…Let me speed it up a bit…
After High School I attended Covenant Bible College in Ecuador, South America before completing a double major of Youth Ministry and Biblical & Theological Studies at North Park University. Upon graduation from NPU I moved to Alaska. I spent two years there, working with Native Alaskan youth from throughout the state. First as the Associate Director of Covenant Youth of Alaska (CYAK) programming the full scope of youth events for high school and junior high students as well as working at the Bible Camp in Unalakleet during the summers. Then as the Director of Development for Amundsen Educational Center, a vocational school, on the Kenai Peninsula.
This spring, I graduated from North Park Theological Seminary's dual degree program where I received four graduate certificates (Nonprofit Management, Church Administration, Nonprofit Governance, and Organizational Development) in addition to a Master of Divinity and a Master of Nonprofit Administration. Blah, blah,blah.
Sorry that got a little factoid-ish. Maybe you didn't want to know all of that, or maybe that stuff is important to you. I just thought I'd split the difference and let ya'll know my credentials as well as my heart. I'm here for you. I want to help you and serve alongside you. Please help me to best help you.
Of course, there is plenty more fun stuff to know about me. I have a lot of beautiful pictures from Alaska, I need a grande bold to kick-start my day, every day, I take dares, used to play soccer 3 seasons of the year, love camping, canoeing, and sitting around a fire – but more importantly- I am very excited to be starting something new,with YOU!