"When Covenanters worship, we celebrate God's story through expressions rooted in our culture. Our worship creates a sense of intimacy with both God and one another and forms us into a community of disciples of Christ."
Our second look at ROOTED IN CULTURE brings us to the amazing graffiti artist Tim Anderson. Culture is not limited to race or ethnicity, but also includes the diverse expressions of ourselves as we bring our whole selves before God in worship. In Tim's case, this expression of worship is manifested through art: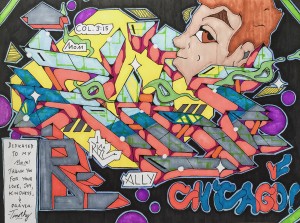 The first graffiti I ever encountered changed my life. I was 14 years old when my friend Jeremy showed me a couple pieces his brother's crew had painted under a bridge on Foster Avenue in Chicago. The abstracted, geometric spray-painted letters twisted and turned. Gray support walls transformed into a roughhewn canvas. Standing in front of that wall brought a new perspective where youth, public space, art, and imagination collided.

I grew up in the city. The Beastie Boys played on my Walkman (the obsolete precursor to the iPod) and provided the soundtrack to daily life. My friends' art stickers were on newspaper stands and the backside of street signs. Music and street art began to swirl together.

Working in youth ministry, I have found that my artistic expression helps me connect and relate to young people eager to express their own thoughts regarding life and faith. I illustrate graffiti designs and produce electronic music using the pseudonym, "Rise," expressing my faith in the resurrection of Christ through musical and artistic expression. Christ has given us the freedom to live an abundant life, one that is full of color and music. Reflecting on the truth that is found in 1 Cor. 15:3-4, that Christ died for our sins and rose on the third day, inspires me to create works of art and music that try to capture that incredible energy of resurrected life.
In what ways has your church community embraced art as an expression of faith?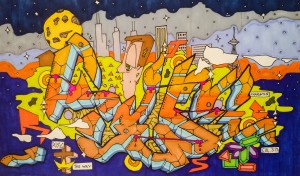 Tim Anderson is a youth pastor, husband, musician and artist from Chicago, IL. He loves Jesus and explores what it means to follow Him as a creative. Check out his blog @ risepro.blogspot.com