"When Covenanters worship, we celebrate God's story through expressions rooted in our culture. Our worship creates a sense of intimacy with both God and one another and forms us into a community of disciples of Christ."
We continue our blog series that invites worship leaders to interact with other voices of familiar and new Covenant worship leaders by looking at another core value of Covenant Worship: ROOTED IN CULTURE.
We can't help but be surrounded by culture, sometimes multiple ones, and in the church today, there is pressure to provide a "multi-cultural worship" experience or to be cross-culturally sensitive. In a world of growing pluralisms, worship leader Christian Cisneros knows the challenge first-hand. As a worship leader of two congregations joining for Sunday worship (multi-ethnic and Filipino), here's what he has to say about our worship being rooted in culture: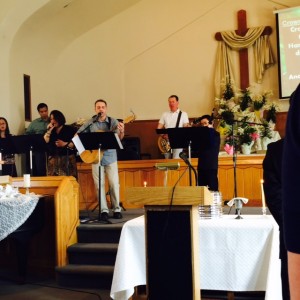 What is multicultural worship? It's a term that is popularly used in the church these days. But what exactly makes worship multicultural? The word "multicultural" as defined means "relating to, or representing several different cultures or cultural elements." Other words that come to mind are "accepting"," inclusive" and "sensitive."

When we begin to plan a service are we accepting, inclusive and sensitive of others' backgrounds and worship experiences? I must admit, it is a difficult task because the natural inclination is to choose what is familiar. Plus, how can you really include everyone? There is always a chance of alienating a few people. It is a challenge but we have a heightened awareness of it. The goal is to be mindful of our differences, to embrace them and celebrate the unique way God created us. He could have made us the same if He wanted to but instead chose to create each one of us special and unique. He desires that our worship of Him reflects this uniqueness.

Diverse worship goes beyond singing a song in a different language, though that's a good start. As leaders, we need to make worship a deeper expression than simply singing songs from another culture. It means a constant move out of our comfort zones to intentionally engage each other.

In the end, what we strive to do is to reflect in our worship what God already sees and desires and that is a beautiful, multicultural church. When Christ returns, every tongue, every tribe, every nation will join to gather in jubilant song and praise but we don't need to wait until that day. NOW is the time to worship as God intended us to!
What does worship "rooted in culture" look like in YOUR context?
Christian is a praise team leader at Immanuel Covenant Church and has called Chicago home for the last 19 years. He and his wife Betzy both graduated from North Park University and have three children Micah, Karsten and Kyla. In addition to music, Christian is passionate about Kansas University basketball, his family and good conversation.