We continue our blog series that invites worship leaders to interact with other voices of both familiar and new Covenant worship leaders by looking at the core values of Covenant Worship:
"When Covenanters worship, we celebrate God's story through expressions rooted in our culture. Our worship creates a sense of intimacy with both God and one another and forms us into a community of disciples of Christ."
When we look at GOD'S STORY, we acknowledge that people from all around the globe give God glory for who He is. As we draw closer to God, we find that the very fabric of our lives becomes more and more intertwined with his – and to this we testify.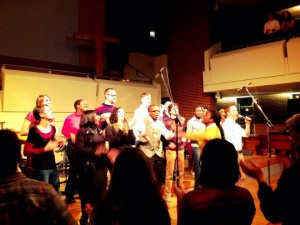 Here is a testimony by Brandi Sanders, who saw God work in powerful ways by interweaving their stories together. Growing up in the Oakdale Covenant Church, she experienced a spiritual awakening in a teen group led by Covenant Pastor Lawrence Pointer. Coming from a musical family and being musically gifted, she has been given many opportunities over the years to use her gifts in the church and beyond.
Who knew that North Park Theological Seminary would have a gospel choir?

I was in my second year and decided to join the Globalization and Diversity Committee. We were discussing the lack of diversity in our chapel services. At the moment, I was in the midst of a sabbatical or time of healing from the church. I was not serving in any way, especially not music ministry. I got an email from Dr. Michelle Clifton-Soderstrom about the seminary putting together a gospel choir for the month of February. I was in a good place and decided that maybe this was a good time to reenter the world of ministry, music ministry. Besides, it was a very temporary commitment, so why not? I stopped by Michelle's office to say that I had a little background in gospel music and would be willing to help. The next thing I knew, Marcus Simmons and I were leading the choir.

We thought we had prepared for a Black History Month seminary gospel choir and before we knew it, we were being invited to Covenant churches, the denominational office and were on the program for graduation!

God had other plans. I thought I would sing for a few weeks and go back to warming the pews in chapel and at New Community, but God had other plans. We thought that of course we'd be done after graduation, but God had other plans. There was a need for this ministry.

North Park is a place where students, faculty, and staff of different backgrounds and cultures get together and worship God. The NPTS Gospel Choir is a reflection of the reconciliation of God with us.

If God's plan is to reconcile us to Himself & bring glory to His name, how does music ministries in your context align? What would music ministries look like if that was the purpose that undergirded all of our plans?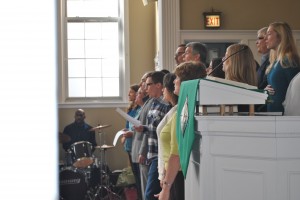 Brandi S. Sanders is a graduate of Tougaloo College (MI) & served as an educator in the Chicago area before entering seminary at NPTS. Initially planning to serve as a minister of music or music pastor, Brandi is now pursuing her Master of Divinity and serving as a pastoral intern at First Covenant Church in Saint Paul. Brandi is married to Rev. Leslie X. Sanders and has an eight-year-old daughter named Sarabi.