by Melissa Lee and Mandi Cherico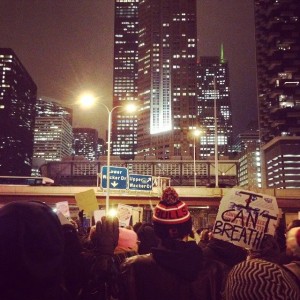 In the midst of Advent, we're all running around ensuring that the worship set, the various teams, the stage, the flow of service, and the Spirit are all set and ready to go! With four Advent Sundays, Christmas Eve services, and Christmas Sunday, (and then some), sometimes it's hard to sing "Gloria in excelsis Deo" and forget humming along to "it's the most wonderful time of the year!"
The temperature in our nation has hit a peak as the fires of racial hatred continue to burn, amplifying conversations at my own church that is committed to racial reconciliation. In the midst of preparing for our Christmas Eve service, I've opened my Bible to Isaiah 7 and Matthew 1. My prayer is that our congregation testifies to God's faithfulness as demonstrated across the generations when God fulfilled His promise of Immanuel – God with us.
But when I stop to take a look at the world around me, sometimes it's hard to see to believe that God IS with us. It is hard to breathe. When will our churches take a bolder stand in the midst of injustice? When will we as a larger church grieve alongside our brothers and sisters even if we don't agree with them politically, culturally, or religiously? How can we sing such chummy songs when this world is in so much pain?
This Advent, in the recent racial tensions across our country and the numerous injustices running rampant in other countries, I am sensing a deeper longing and desire for Jesus to return and fulfill His promise to make all things new. I find myself more thankful that God would put on flesh to enter our messy world. I find myself in wonder that the blood of a baby would one day redeem us all.
While we need to be careful in leading our congregations to worship in the midst of injustice, let us not keep silent. The Holy Spirit used a dear friend's reflection on a familiar prayer to help me to my knees:
Surely this part of Jesus' prayer is a request for God to provide for our daily needs, a plea to the Lord for things that we need to get by everyday. All that we have is a gift from God, be it food, sleep, shelter, physical or mental health, or community. The 'bread' of life takes many forms but no matter what it is, we have it because God has given it to us.

Notice the communal aspect of this request. Give us our bread. This is not just a request for our unspoken individual needs to be met. It's not just about God addressing our own hunger, thirst or fatigue. This is a prayer for the whole world, the global community. It is a prayer for all God's children, that no one would go hungry physically or spiritually. That what we all need would be supplied to all of us.

It begs the question, how are our own needs connected to the needs of others, even those who are so different from us, who live in seemingly different worlds than us? It goes beyond the obvious call for charity and generosity, which we know to be central to the Gospel. How do the needs of our neighbors interact with our own?

This question has been on my mind as the events surrounding the deaths of Michael Brown and Eric Garner ricocheted through the nation over the past few weeks and months. One simple truth has rung out through the cries of lament and the shouts for justice that we've heard in our own city and across the country: the needs of our brothers and sisters of color are not being met. Needs for fair trial, general safety, dignity and respect of life have been denied for centuries by a system that regards the needs of people of color as lesser than the needs of those who are white.

For these and many other reasons, I and several other North Park Seminary students marched with thousands of protesters through the streets of Chicago and so many other American cities last Thursday. It was our version of a fever, a spike in societal temperature signifying that our national system is undeniably sick. The devaluing of black and brown bodies in this nation is OUR problem. If the dignity of my brother is denied, mine is under fire as well. If my sister isn't getting her needs met, I'm not either.

Our reading for this section of the prayer mentioned that this line occurs right before a plea for forgiveness. After we ask God to meet all of our needs, we confess that we have sinned against others, that the things we have done, the unmerited privilege we've received, has sometimes denied others of their most basic needs.

How often do we withhold bread from others? How often do we stockpile bread for ourselves, only to stand in judgment of others who cry out in hunger? We have a God who cares about all of our needs. A God who gives us what we need to survive and more.

God is with us, Emmanuel. Praise be to God! As people of God may we take seriously the needs of others, may we hear and amplify the voices of those whose needs are not met, and may we confess to God and each other the ways in which we do not meet each other's needs.

Give us this day our daily bread. [by Mandi Cherico, Dec 2014]
As we lead our congregations in worship, let us not forget that we can yearn, lament, ask, move, and rejoice in community. In the midst of this broken world, let us not keep silent. Let us keep singing songs of redemption.
Melissa Lee & Mandi Cherico are students at North Park Theological Seminary and passionate about the church's call to racial righteousness and reconciliation. Melissa is new to the ECC's Worship Commission. Her home church is Mosaic Community Covenant Church in Sugar Land, TX.