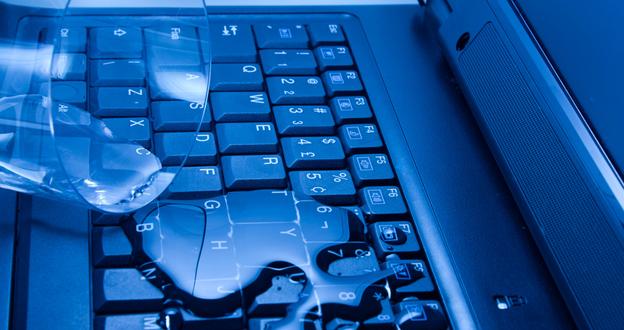 Today's post is written by Geoff Twigg, Adjunct Professor at North Park University in Chicago. Geoff is a pastor, singer/songwriter, worship leader and ministry consultant, and serves the ECC as a member of the denomination's Commission on Worship.
On Tuesday it all came together. In a bad way, I mean. My favorite morning cup of tea came together with my favorite computer and they proved themselves incompatible. What to do? I got on with my work. I had everything backed up, of course (learning from previous experience) and, while I couldn't afford another computer that ran those programs, there was plenty I could do online, so I picked up a small machine that gives me access to the web and enough functionality to keep up.
On Saturday, I couldn't work out why I was so grumpy; feeling really heavy-hearted. I had decided to take it easy that morning, take a few hours out prior to a busy couple of weeks, and so I looked at the broken laptop for the first time. I had asked a couple of experts if there was anything I could do to make sure it was finished. Following their instructions I removed the base plate and cleaned up the mess inside the computer. The tea had, literally, 'hit the fan.' Consequently it was everywhere, and took some time to clear up. I'm an optimist, and a perfectionist, but it was all to no avail.
It may be obvious to you, dear reader, as it is to me now – but I still couldn't work out why I felt sad.
A few years ago I encountered a strange repeating phenomenon. I was typically in my office, with a couple who were having marital difficulties, when I began to feel a tightness in my chest, and deep breaths produced a wheezing sound. The only way to offset this, it seemed, was to go outside and walk around the church parking lot for a while. Gradually my breathing would get easier, and I was able to go back and finish the counseling session. Like many of us in pastoral ministry, counseling was a normal part of my job – and I was happy to help. What I didn't know at the time was that a virus had left me with congestive heart failure, and the wheezing was a sign of a heart working hard under the stress of a strenuous and emotional conversation.
It had never occurred to me that caring about something was actual, physical hard work. Similarly, it didn't occur to me this week that my grief over losing the computer – a significant tool in my everyday life and work, was a kind of grief that needed to be given time and expression. It was only when I took the time away from a busy schedule that the emotion surfaced.
Do yourself a favor; remember that the emotional weight, the caring for others, work stress and coping with losses or disappointments – it's all work that makes you tired. It needs recovery time and recreation. It's a weight as real as carrying a heavy load upstairs, and yet too often we can ignore it or (at least) not take the effort seriously. Looking after yourself honors Christ and sets a good example to those you lead; and enables you to be ready when the unexpected happens. Even if it's cup of tea that "goes down the wrong way"…