Today's post is written by Chris Logan, Pastor of Worship Arts at Community Covenant Church in Lenexa, KS.
Over the last few months I've been part of a "cohort" (whatever that means) of other pastors around Kansas City Metro, led by Brad Brisco and Lance Ford of the FORGE:America Mission Network. We've been discussing what it means to be "missional," the sent people of God. The missional church movement, with its roots in the emerging church movement (which was soooo '90's) has been a strong critic of Consumer Christianity; we are not here for ourselves, we have been "called out" to be a blessing to the world. It's all very biblical stuff, it's a message our churches desperately need to hear, and it's a message we desperately need to enact because it is a call to return to the roots of our faith.
In and amongst the large questions of "missional," however, we worship pastors can often feel lost. It's all very senior-pastory stuff, very big-vision, very theological and in some ways, very abstract. But when the rubber meets the road, it also calls into question one of our fundamental reasons for being worship pastors: the worship gathering. It's why we were hired in the first place: the (usually) Sunday morning gathering has long been a staple of Christian practice in the West – in one form or another – for more than a thousand years. So long, in fact, that many of us tend to forget why we do this; "we've always done it that way"; "we have to gather, that's when we worship"; "Jesus said to do it that way;" and other such nonsense.
The gathering tends to take the brunt of the critique because, in many minds, the gathering IS church. A whole generation of pastors preached this; we still often call the buildings in which we gather "churches," as if they can be that apart from the group of people who gather there. I still find myself slipping into that talk when I talk about it with my kids; we have no other word for it!
Now, most of us can agree that worship is first and foremost a way of life; to live oriented towards God is to worship. The two can be equated, I think. Mark Labberton makes a case for this in his book, "Dangerous Worship", to which I hope he makes reference at Midwinter this year (and everyone going gave a shoutout). In Romans, Paul makes a good case for this too: "Therefore, brothers and sisters, in view of God's mercy, offer yourselves as living sacrifices, holy and pleasing to God; this is true worship." There are good reasons to gather together weekly. Scripture DOES say we shouldn't forsake gathering together. Jesus spent large amounts of time teaching his disciples apart from the crowds.
But Jesus also said, "go."
Jesus also said "make disciples of ALL nations."
Jesus said we were to go to the very ends of the earth.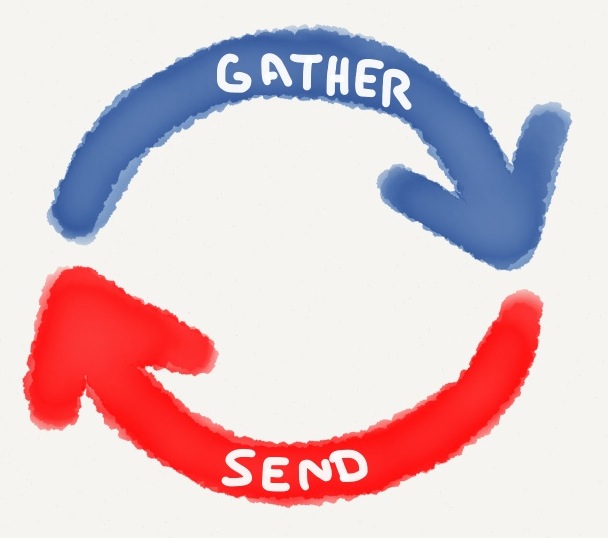 And how we emphasize this in our gatherings is important. It's not an either/or, but a both/and: we gather, and we are sent, gather, and send. We worship pastors are discipleship pastors too, but for us, it means discipling a whole congregation all at once through our art, through music, and through the liturgy we write. How we choose to lead can emphasize this rhythm of gather and send. A benediction, literally a "good word," is a time for us to remind ourselves of our sent-ness. The good word is that we do not cease to be this gathered people when the doors swing shut on our way to the parking lot, because being sent is a part of offering ourselves. It means that, when Monday comes, we're still the Church.
When we're cut off in traffic, we're still the Church.
When our coworkers invite us to the suspicious wing joint next door, we're still the Church.
When our kids do that one thing that always makes us angry, we're still the Church.
When we know that it's time to study – but Facebook sits there beckoning – we're still the Church.
And how we respond is worship too.