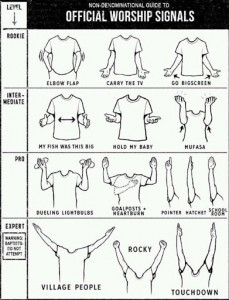 Today's post is written by Matt Nightingale, Director of Worship Ministries at Redeemer Covenant Church in Tulsa, OK.
I've been a full-time worship pastor for over 12 years. My great desire, my clear call from the Lord, is to help people enter into worship. And over the years, one of the definitions of worship that has made the most sense to me is very simple: Worship is our response to God's revelation. Of course that response can take many forms. Our day-to-day lives of individual worship (see Romans 12:1) are a response to God. And our worship services, where God's people gather to worship together, are a response to God.
The Covenant Book of Worship reminds us that not only do we respond to who God is, we respond to what God has done. Jewish worship – liturgy, songs and holy days – focused on the Exodus. God had done something spectacular – delivering His people from bondage in Egypt – and the community of faith responded in worship by remembering and celebrating with their lives. In much the same way, Christian worship over the last 2000 years – liturgy, songs and holy days – has focused on an event: the atoning death and resurrection of Jesus. God has done something spectacular – delivering His people from the bondage of sin and death – and the community of faith responds in worship by remembering and celebrating with our lives.
Every Monday morning, I get together with our senior pastor and associate pastor. We check in with each other and pray together, and inevitably we get around to discussing the worship services. Every week we ask ourselves about Redeemer's response. Was our worship planning effective? Did our congregation respond to God? How do we know?
We've all seen the Hillsong videos (or the Passion videos, or the Jesus Culture videos, or… insert whatever vibrant, youthful praise and worship movement you want)… You know, the arenas full of people, hands raised, eyes closed, singing at the top of their lungs. Those people are really worshipping, right?
And then there's Redeemer on a Sunday morning. We're a conservative bunch, on the whole. Some people just stand there. Others sing quietly. Some brave souls lift their hands and close their eyes. Sometimes there are moments of robust, unified singing, and other times I can't really tell how many people are singing along. But you know… it's not Hillsong all the time. That's just not our thing. And that's just fine. We all know that true worship can't be measured by outward expression. After all, scripture teaches us that "people look at the outward appearance, but the LORD looks at the heart (1 Samuel 16:7, NIV)."
The most expressive person can be the most hypocritical. The quietest person can be the most fully engaged. There's no way to tell from simply observing.
I remember once introducing a new song at a former church. The band sounded great, the lighting was just right, people were really "with me."  I saw someone watching me, and I thought to myself, "Man, I sound good… I'll bet that person thinks I have a really great voice." And then I got to the chorus:
You are the God of the broken, the friend of the weak
You wash the feet of the weary, embrace the ones in need
I want to be like you, Jesus, to have this heart in me
You are the God of the broken. You are the humble king.*
BAM! In one chorus I was revealed as a fraud, utterly barren in my seemingly genuine worship. On the outside, I was looking the part, but on the inside I was a prideful pretender.
On the other hand, I know a man here at Redeemer who looks like a statue during worship in music. He just… stands there. Hands in pockets. Doesn't even sing. But he continually lets me know that he appreciates our times of worship and that the songs are meaningful to him. And even more important than his affirming words, his life reflects maturity in Christ and produces good fruit.
So how can we tell? How do we evaluate whether our congregations are entering into genuine worship? How can we gauge the response of our people – as individuals and collectively? Please share your thoughts and experiences.
*Lyric from the song "Humble King" words and music by Brenton Brown, © 1999 Vineyard Songs (UK/Eire) (Admin. by Vineyard Music UK)