Today's post was written by Chris Logan, Pastor of Worship Arts at Community Covenant Church in Lenexa, KS.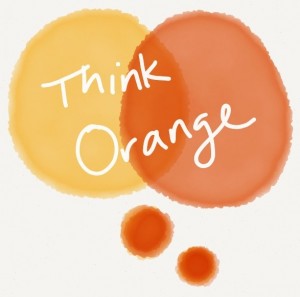 Our church recently went orange.
If you've never heard of orange before, you ought to go have a look at Reggie Joiner's book Think Orange. In a nutshell, when the light of Christ preached in the Church (yellow) and the heart of the family (red) are combined in the right way, amazing things happen for all involved; we become orange. When the Church partners with the family, everyone benefits; children, teens, college and post-college-aged men and women, singles, couples, parents, and seniors all learn from each other and grow together. When the walls are broken down between cultures, between the silos of ministry, and between generations, the Church moves closer to being who she was created to be. There's just one catch:
It's hard.
Actually, no. It's REALLY hard.
It's also something that is becoming increasingly necessary in the new realities in which our churches in America find themselves (though one might argue, it's always been important and maybe a lot of us forgot). Parents are incredibly busy bringing their kids to a larger and larger array of extracurricular activities (mostly sports, sadly, many of which are increasingly held on Sunday mornings) and thus have little time to volunteer. Church as a body gathered is becoming less of a priority for some, while for others the demands of job, work, or career keep them moving so much that Sunday is the only respite they get from being on the move. And so Sunday gatherings are facing declining attendance, even as the membership numbers are increasing and even (in some cases) as financial situations are oddly stable. From one statistic, 50% attend 50% of the time, 25% attend 25% of the time, and the rest attend around 75% of the time. And all the while, each of these groups still see our local church as their spiritual home.
It's a weird world we're living in.
It can be frustrating.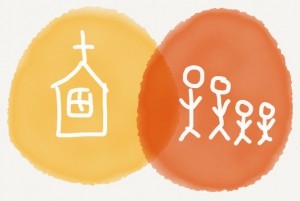 The challenge for us as pastors is to be mindful of the new realities, this terra nova that we're exploring, and to pioneer new ways of doing the old principles – community, discipleship, and worship – in a world we weren't expecting to live in and doesn't live inside the tidy little boxes we were trained to use. In a world that is busier and busier, it is more and more important for the Church to enact its calling as both sabbath culture and as missionary culture, one that both gathers and sends, and become orange. We the church have a Word, often countercultural, for our people; but they have real challenges to face, and the world of the Church doesn't always feel like it has solutions for those challenges. So when we think the world is becoming hard, our families are facing that difficulty tenfold. So instead of seeing our people as fighting us, we must see ourselves as the spiritual mentors, examples, and even change agents that we are and come alongside families to learn together what it means to be disciples of Jesus today.
And a family, by the way, is what the Church IS; an intergenerational, intercultural, interdenominational family. It's messy. It's complicated. It's busy. It's full of weird brothers and sisters and cousins and aunts and uncles and grandparents and everybody in-between. And yet, that's what we have going for us:
We're still in this together.
Only one question for you today: how can we best resource the families in our congregations to be holy, grace-filled missionaries in today's changing world?