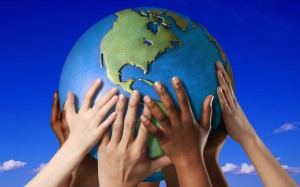 Today's post is written by Jo Anne Taylor, Director of Music and Worship at Bethlehem Covenant Church in Minneapolis, MN.
On April 22, 1970, Wisconsin Senator Gaylord Nelson hosted a "teach-in" to raise environmental awareness. Nelson was a conservationist and environmental activist who believed that effective earth care should be a decentralized, grassroots effort in which each community shaped its action around local concerns. Since 1970, Earth Day celebrations have spread across the globe, raising awareness and encouraging people to take better care of the planet on which we live.
Where is the church in this? How does worship reflect our call to care for God's creation? Is your church doing something more than singing "For the Beauty of the Earth" this Sunday, April 22, 2012, Earth Day?
Do you consider Earth Day to be a secularist event, or an opportunity to demonstrate God's love for his created order? One Better Together contributor wrote, "We don't have a choice whether or not we care about the earth and God's creation." This writer went on to say that, as followers of Jesus Christ, and therefore stewards of the earth which HE – not we – created and gave into our care, we should be leading the charge instead of following the secular culture toward better creation care.
Another person recalled a vivid memory from that first Earth Day, in 1970:
"The pastor started the service, seemingly oblivious to the fact that the communion table had been littered with Coke cans, bottles, boxes, paper and trash. A scripted conversation ensued with 2-3 people getting heated over why it was left that way, what God thought about it, and whose responsibility it was, and while the argument went on, a small child went up and started cleaning the table."
How is your church celebrating Earth Day this Sunday? And what are you doing to promote creation care on the other 364 days in the year? Feel free to share your thoughts in the comment section below. Who knows? Your ideas might encourage another church to do more than "Reduce, Reuse, and Recycle" as we work together to bring the good news of Redemption to a hurting world.