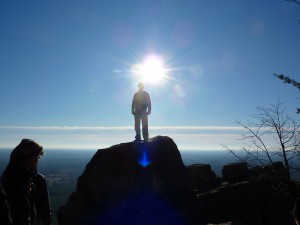 Today's post was written by Geoff Twigg, Adjunct Professor at North Park University in Chicago. Geoff is a pastor, singer/songwriter, worship leader and ministry consultant and serves the ECC as a member of the denomination's Commission on Worship.
At the end of a Summer School for Worship Leaders some years ago, my friend Robin addressed the delegates: "For most of you this has been a mountain top experience, a rare event – and you don't really want it to end; but don't forget… nothing grows at the top of the mountain. If you want to see people growing in Christ, being discipled and deepening their devotion, you need to put your boots on and get to work in the valley."
I've never forgotten his words, or the way they impressed me that day. As it had been for many of my friends, the week at London School of Theology had been a powerful experience for me, and I wanted to remain in the moment. I was even prepared to believe that this was where I was 'supposed to be'… a high and holy moment where I felt close to my calling and to the God who called me. Robin was right; I needed to 'put my boots on' and get back to the practical work at home.
Worship leaders are, necessarily, worshippers.
Worship leaders are, necessarily, worshippers. We want and need to spend time in close fellowship with God. When we lead, our attitude of worship is more caught than taught, and no command or coercion ever works as well as leading by example. However, our intimacy with our Lord is not an escape or an exile from the task of bringing God's kingdom to the world. We are sent from his side to be ambassadors for Christ, fueled by the strength he imparts and enthusiastic to obey his calling.
In our online notes this week, we were discussing "how do I come down from the mountain top experience?" and a couple of wise old heads suggested that sabbath rest, exercise and self-care are important for leaders who have done a thorough job of work.
I think they're right… but my main point would be that the aim of our encounter with God is not the experience, to be enjoyed and then 'come down' from… the aim, rather, is to be inspired, renewed and sent out once again into a world of need.