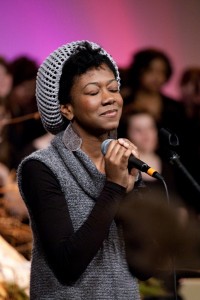 We had fun planning and leading the Midwinter and Connection worship. Here, on the blog, we'll post the orders of worship and links to resources and photos. Special thanks to 
Mike Nyman
 who took pictures all week, and generously gave them to us royalty-free. These are the resources for Thursday night. Also posted: 
Monday nigh
t,
Tuesday night
.
First the tools:
Planning Center Online. Tim Peterson uses this at Crossroads, and set us up for Midwinter. I like everything about this tool. It helps us manage: scheduling, communications, orders of worship, songs, liturgy, scripts and other downloads.
CCLI Song Select. It's worth every penny.
ProPresenter. What can we say? It's the best presentation software.
We worked with the theme: The Centrality of the Word of God. The theme was a dream. We had six services to plan around the theme– 3 evenings and 3 Bible studies. Download the bulletins, which contain all the spoken liturgy and song lyrics.
Thursday Eve, The Word Made Flesh
"Carillon de Westminster" by Louis Vierne. Order printed music or download.
Picture montage of Midwinter moments
A Mighty Fortress is our God. #464, The Covenant Hymnal
Rejoice Medley. 1.) You are Good (Israel Houghton. CCLI 3383788), 2.) Again I Say Rejoice (Aaron Lindsey & Israel Houghton. CCLI 4302823) and 3.) Everlasting God (Brenton Brown & Ken Riley. CCLI 4556538)
Jason Ulven Story
From the Inside Out, Joel Houston. CCLI 4705176
Gospel Reading: John 1:1-18 (Josef Rasheed)
Message: The Word Made Flesh, Gary Walter
Break Now the Bread of Life. #535, The Covenant Hymnal
Communion Liturgy and Sharing the Bread and Cup.
Organ music: "O Man, Bewail Your Grievous Sin" ("O Mensch, bewein' dein' Sünde gross") by Johann Sebastian Bach. Order printed music or download.
Hallelujah What a Savior, This arrangement, Tommy Walker. CCLI 5065729 
He Reigns, Peter Furler & Steve Taylor. CCLI 4026635. Download the video loop that Tim used as background.
Sending Prayer: Collect for Second Sunday after the Epiphany
"Hallelujah" (from 

Messiah) 

by George Frideric Handel (unpublished organ transcription by Randall Wilkens)
See also:
Monday eve, Proclaiming the Word
Tuesday morn, The word and the Word with Klyne Snodgrass
Tuesday eve, Shaped by the Word with Phyllis Tickle
Wednesday morn, Hearing with the Heart with Klyne Snodgrass
Thursday morn, Hearing in order to See with Klyne Snodgrass