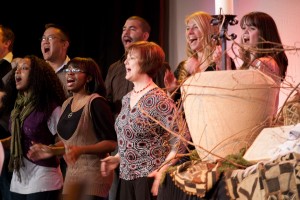 We had fun planning and leading the Midwinter and Connection worship. Here, on the blog, we'll post the orders of worship and links to resources and photos. Special thanks to 
Mike Nyman
 who took pictures all week, and generously gave them to us royalty-free. These are the resources for Tuesday night. Also posted:
Monday night
and
Thursday night
.
First the tools:
Planning Center Online. Tim Peterson uses this at Crossroads, and set us up for Midwinter. I like everything about this tool. It helps us manage: scheduling, communications, orders of worship, songs, liturgy, scripts and other downloads… I heartily recommend this tool.
CCLI Song Select. It's worth every penny.
ProPresenter. What can we say? It's the best presentation software.
We worked with the theme: The Centrality of the Word of God. The theme was a dream. We had six services to plan around the theme– 3 evenings and 3 Bible studies. Download the bulletins, which contain all the spoken liturgy and song lyrics.
Tuesday Eve, Shaped by the Word
See also:
Monday eve, Proclaiming the Word
Tuesday morn, The word and the Word with Klyne Snodgrass
Wednesday morn, Hearing with the Heart with Klyne Snodgrass
Thursday morn, Hearing in order to See with Klyne Snodgrass
Thursday eve, The Word Made Flesh with Gary Walter