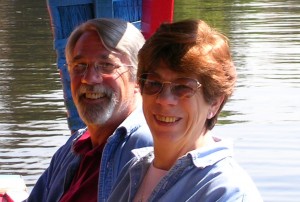 Almighty and everlasting God, in Christ you have revealed your glory among the nations: Preserve the works of your mercy, that your Church may persevere with steadfast faith in the confession of your Name; through Jesus Christ our Lord, who lives and reigns with you and the Holy Spirit, one God, for ever and ever. Amen
As we approach retirement, we find ourselves reflecting on the last 30 years.  Truthfully, most of the time we were just trying to catch up with a world in constant transition. In fact, "change is the only constant" proved to be a true aphorism even though all the changes were built upon and absorbed the past – frequently in unexpected and unpredictable ways.
One of the deepest changes for missionaries was the movement from pioneers to partners in our self-understanding. We had to become partners with believers in the countries that had received us. We had to learn how to follow Jesus together.  Certainly, this change was not something unique to the last 30 years, but people  don't catch up with things in timely ways, and it often fell to us to live into the idea in our time.
As we thought of ourselves and our colleagues, we had to ask what motivated us to become missionaries in the first place. We went to seminaries and conferences and the like and learned how to describe our "call" in acceptable and theologically correct ways, but the heart answer to the question was quite mixed, variable and complex. It even, at times, included some ugly and sinful dimensions – like class prejudice, racism or a belief in national superiority – or even, "since we are Christians, we are better than those people." These things are in the air that we breathe in our society of origin and must be rejected with all our might.  One part of our sense of call – rather youthful, to be sure – stands out. We all had visions, dreams and ideas and we wanted to change the world. That youthful part continued as we imagined changing the world mostly by means of our particular gifts, talents, energy and abilities. If not "mostly,"we certainly imagined ourselves in definitive and leading roles. We wanted to be stars, not "supporting actors."  That mythical word, "pioneer," lit us up like neon – with its Hollywood version of "carving a home out of a hostile wilderness" or "building a mighty railroad through mountains, deserts and the like." Reality, however, is shattering. Nearly every missionary we know ran into its wall sooner or later. Some went home, discouraged and broken; deeply troubled that they had not been sufficiently appreciated. (Note: this is not a reference to any particular Covenant missionaries that resigned during our tenure as Regional Coordinators.) Some created illusions and spiritualized every event of their daily life as unique and heroic – above, beyond and special (for our academic friends – "autobiographical  hagiography disguised as a prayer letter.").
Most, however, accepted the chastening and began to look at their environment in new ways. They began to ask, "Who else is here?" "Who is my neighbor?" "What has God been doing here before I arrived?" They stopped worrying about "legacy" and "my contribution" and began devoting themselves to the encouragement, empowerment and increase of others. The more we forgot ourselves and loved others, the more our truest selves became revealed, and our joy was made full.
Matthew's Gospel reports this story.
"When John heard in prison what the Messiah was doing, he sent his disciples to ask him, "Are you the one who was to come, or should we expect someone else?"
Jesus replied, "Go back and report to John what you hear and see: The blind receive sight, the lame walk, those who have leprosy are cleansed, the deaf hear, the dead are raised, and the good news is proclaimed to the poor. Blessed is anyone who does not stumble on account of me."
The best missionaries thank God daily for the forgiveness, restoration and Grace that they have received. They rejoice even more at what Jesus has done and is doing in and for others. They could care less whether their role in things gets reported at all. They are profoundly grateful for what they hear and see. They learn the joyful humility of following Jesus together with their new friends in new lands.
Thank you for making it possible for us to have a life of wonder and joy in the service of the Kingdom of God.
by Dave & Wendy Mark
Regional Coordinators for Latin America and the Caribbean
Covenant World Mission