By Covenant missionaries Pete and Cindy Ekstrand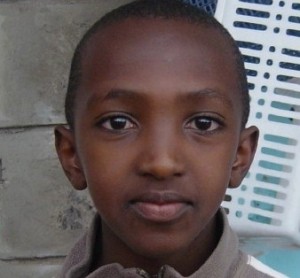 Eric is seven years old and is in first grade. He was constantly moved from one place to another as his family looked for a safe place to live. They have found peace in Kenya and have been welcomed with love by the Kitengela Covenant Church. Eric lives with his parents and five brothers and sisters, plus another five children who lost their parents in the war in the Democratic Republic of Congo so there are 13 people in his family. Eric is one of many Congolese refugee children who have arrived in Kenya over the last several years.
In God's amazing and wonderful providence a connection was made when a Congolese attending a Covenant church in the U.S. contacted us about whether the Covenant Church of Kenya (ECCK) could help his extended family who had recently arrived as refugees in Kenya. We contacted Pastor Simon Kamau of the Kitengela Covenant Church  who contacted the refugees. The church reached out to the refugees in many ways and today, about 300 Congolese refugees have been helped by, and also attend, the church.
But God's amazing connections and knitting plans together don't stop there. When the church started reaching out to the refugees, Pastor Simon was studying integrated community development. Empowered by resources from their own small chicken project, the church was able to help with clothing and food. Simon led the church as they organized English classes to get the children ready to go to Kenyan schools. Simon arranged apprenticeships with local community business persons for those needing jobs. And, as he saw the market for broilers and eggs change, Simon switched the project from raising chickens to growing tomatoes for supermarkets in Nairobi. A BIG change that has been economically successful.
We serve an amazing God who loves and cares for His people. A God who is at work around us and through us and in us. We are grateful to be able to hear these stories, share them with you and grow in faith along with our brothers and sisters.
Back t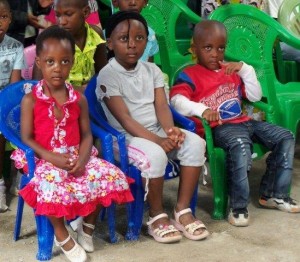 o School is the Children's Service Project for 2011-2012. The Covenant Church of Kenya is committed to helping the Congolese children and youth receive the education they need in order to succeed in Kenya. We are working with the ECCK and Pastor Simon to find a long-term solution to the annual need for funds for school fees, books, and uniforms. Gifts to this project will provide for their needs for this year and beyond. We encourage churches to take on this need as a project for their Sunday schools.
More information on the project can be found here. Gifts should be marked:  "Back to School" and sent to:  Covenant World Relief, 8303 W. Higgins Rd., Chicago, IL  60631.