This article was originally posted on Marta Klein's blog. She is a Covenant missionary serving in the Democratic Republic of Congo (DR Congo).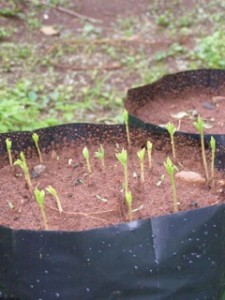 This past week have been some good developments in an experiment that the other missionaries and I have been doing. There are so many people here, particularly children, that suffer from malnutrition. There is a plant, Moringa, that grows locally, that is very beneficial for people that have malnutrition.
Paul Noren (long term missionary in DR Congo) and myself planted 60 Moringa seeds about two weeks ago. Only 20 of the seeds sprouted, but they have been growing like crazy!! We have even transplanted the fledgling plants to another garden. In the meantime, we have found some trees that are already full grown in the area near the hospital. We were able to get a bunch of the leaves and we have been trying to figure out the best way to dry them.
Once they are dried, they can be crushed into powder. The powder can then be added to food to enhance the nutritional value. The powdered leaves contain a lot more protein, vitamins, and iron than other foods alone. We have been discussing this with the hospital staff and we have had a good response in the proposal of a nutrition project with Moringa. I'm super excited about this project. Please pray for us as we work with the local medical staff and the local people to introduce this amazing plant to help combat malnutrition. Kimia (Peace)!