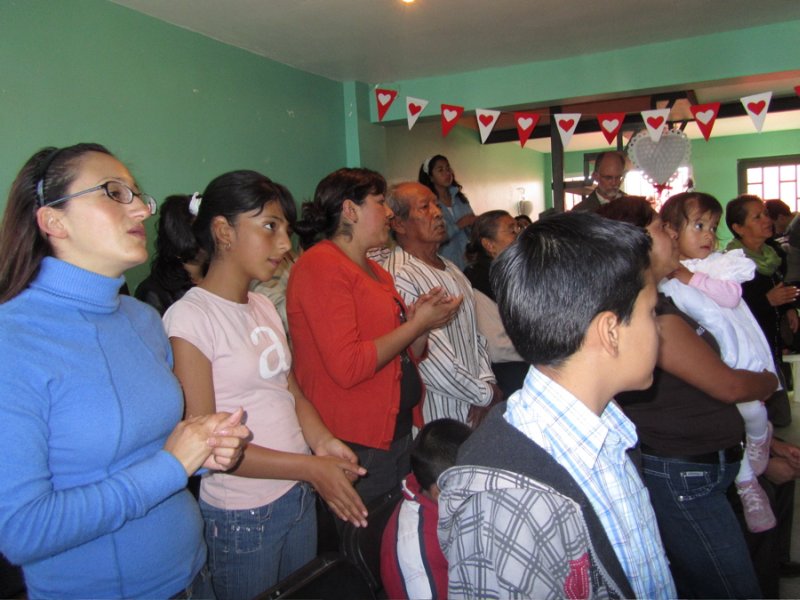 Greetings from Mexico. God is at work here!
One of the Mexico City Covenant churches is located in the northwest suburb of Cuautitlán Izcalli. Fifteen years ago, an extended family from that church had a vision for planting a daughter church in the neighboring suburb of Nicolás Romero, where several of the family members live.
The core group of interested folks took the first step in realizing their vision by starting a neighborhood Bible study in the home of Ester, the family matriarch. Across the years the group faced many challenges and times of discouragement. But a strong commitment to prayer, patience and hard work was at the heart of their vision. The long years of planting, watering and tending the soil are showing signs of fruit.
Last July one hundred children attended the Nicolás Romero Vacation Bible School. The tiny house which serves as the gathering place was filled to overflowing. One of the classes met outside on the street that, with the support of the neighbors, was blocked off for the week. Parents and neighbors responded positively to the ministry efforts.
In August of 2010 this Mexican Covenant church plant, calling itself "Misión Nicolás Romero", held their first Sunday morning worship service. Gratitude, hope and excitement fill the air as attendance steadily increases. February 20, the Sunday Tom and I had the privilege of visiting for the first time, there were 29 adults and 23 children present!  Small groups from the Cuautitlán Izcalli Covenant Church rotate the responsibilities for leading worship, providing music, preaching and teaching Sunday school.
In January of this year thirty neighborhood women accepted an invitation to an evangelistic breakfast at Misión Nicolás Romero. Several of them are now regularly attending the Sunday service and the weekly Bible study for women.
God is at work in Nicolás Romero! Thank you for your prayers and support. They are an important part of God's kingdom work in Mexico.
By Janice Kelly, Covenant missionary to Mexico.