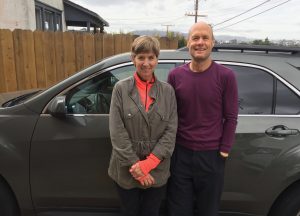 Life involves movement. Many are in constant movement as they live their day. We live in a mobile world with many, literally, on the move – either traveling for work, pleasure, errands, etc.
The Evangelical Covenant Church, and its global partners around the world are a part of this world movement. The ECC of the U.S. and Canada is moving around at this time as the Midwinter Conference is taking place (as you read this). We are a moving part of the ECC this year as we travel on Home Assignment and are blessed to see many of you. Even though we move and travel quite a bit in Colombia, we don't travel nearly as much as we will this year.
The Covenant in other countries also gathers together for conferences and annual meetings of one sort or another. All of this movement of the Covenant, in its local context around the world, is different.
Today, in the Covenant Serve Globally Prayer Calendar, we were asked to pray for the biennial gathering of the Congo Covenant (CEUM). The request was for prayers for "Travel [that] will take 3-5 days depending on the means of transportation. Pray for safety on the roads and that there would be no irreparable mechanical issues." Most likely, none of us reading this has asked for covering prayer for our travel in the U.S. with those specifics requests.
In Colombia, a request went out from the South Coast churches to NOT travel. For the upcoming annual meeting, the South Coast requested to be able to host the meeting so that they would not have to travel. Twenty years ago, the South Coast hosted the annual meeting. Since then, however, they have had traveled each year (well, many times some of the churches were not represented because they didn't want to travel). This year the Covenant of Colombia wanted to make sure that the South Coast was completely represented and agreed with them to host the annual meeting in their region. Now, the Covenant Churches in the Medellin area, where the annual meeting is usually hosted, will have to say YES, we will travel (a "movement" that they are not used to making).
The Covenant is on the move!