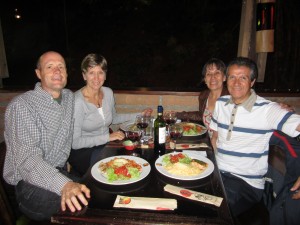 It has finally happened. Our first Christmas season is upon us without any of our children present L. We knew it was going to happen sometime and 2012 is the year. Even though as a family, Mary Lou and Gary will be in Colombia and our kids will be in Canada and in CA. God's love and our prayers connect us with one another.
So, what are we going to do? We are going to celebrate this Christmas with two of our oldest Colombian friends. Alcira Martin is the person mainly responsible for Mary Lou and Gary being able to communicate in Spanish for these past 22 years. Alcira was our Spanish tutor that we met and began working with in 1990. Five days a week for at least one hour each day with Mary Lou and one hour each day with Gary, Alcira walked us through individualized language learning for 10 months (along with two other tutors). During that time a friendship was begun that extended to Jorge, Alcira's husband, and to their two daughters as well. During the decade that we lived in Bogota, we got together as families and thoroughly enjoyed one another's company because we were able to "communicate" with one another. When we moved to Medellin in 2000 our contact tapered off. A few years ago, when Mary Lou and Gary began to travel regularly to Bogota, we also got back in touch with Alcira and Jorge. We soon realized our common situation as we had entered a stage of life which both of us as couples and families were working with – adult children living on another continent.  Jorge and Alcira's daughters live and work in Japan.
And, once again, Alcira and Jorge are walking with us on our journey of life. We are thankful for this friendship and the support we can give to one another.