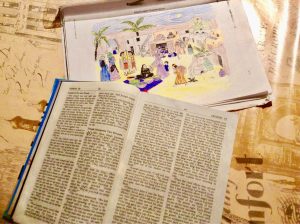 We have been reading through the Bible with our oldest daughter and she always has interesting questions about what we read. The topics range from why people in the Old Testament had more than one wife, to why women shouldn't teach men, to why one group of people made other groups of people slaves. Sometimes we feel like we should go back to our Seminary lectures to make sure we give her the right answers!
The other night we were reading about slaves in the Old Testament and Gabrielle asked if there are slaves in today's world. That question really opened up a long conversation. She asked if girls her age could be slaves. We answered her question honestly in a way that a mature 8, almost 9 year old could understand. We said that yes, sometimes girls as young as her are slaves. We defined slavery as "working for someone else, either willingly or against your will, for too little (or no) money, when you don't have other options to survive."
We shared about the ministry of our friends, the Dao family, who care for exploited victims of human trafficking in Thailand. She was all ears. She wanted to know what our friends did to help these people. She wanted to know how adults and children got into situations were they became slaves. "Why don't their parents protect them?" she asked. She wanted to know how she could help kids her age. She asked if the Dao's are missionaries. "Yes" we said. "Wow!" she exclaimed. "Missionaries are superheroes!"
We explained that missionaries are ordinary people with a special call to serve a superhero God! We are so privileged to minister to God's people in Germany and also blessed to work alongside of coworkers like the Dao's who offer care and hope to exploited people. We love how simply reading the Bible as a family started this conversation and how our children are beginning to understand the value of serving in God's Kingdom. We encourage you to read the Bible, whether you are 8 or 88! It is truly the story of our amazing, superhero God — the story of how he rescues us, and the part we get to play in rescuing others!