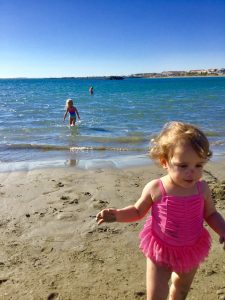 At the end of October, the five of us boarded a plane and flew to the coast of southern France to spend a week in retreat with other cross-cultural workers serving in Europe. It was a wonderful time of sharing, growing, learning about each other and experiencing life together. We felt the Holy Spirit moving among us and are so thankful that our sending organization makes this experience possible every year.
While we are now pretty experienced travelers, we were a little anxious about finding the retreat center. It is located in a somewhat remote village on the Mediterranean Coast. But our hearts were set at ease when we saw familiar faces boarding our connecting flight. The retreat childcare workers, N and S, were on the same flight! They were flying from California and we were flying from Hamburg. Our flights happened to share the same connection in Paris! Both women had been to the retreat center before, knew how to navigate public transportation in France, and one of them even spoke a "little" French! It was so clear to us that God saw our need and provided. Our minds were set at ease as we traveled the remainder of the way with them on 2 buses, a tram, a train and then walked a bit to find the retreat center.
We made every connection and arrived without a hitch thanks to S's French skills. But perhaps the biggest gift to us was the fellowship we shared while travelling and their helpfulness with our children when our bags were delayed. As I'm sure any parent can relate, it's hard traveling with young children. It's even more stressful when we're travelling in a country where we're not familiar with the language and public transportation system. We were once again reminded of how God delights in taking care of us.
Often times we forget how many details the Lord takes care of that we are oblivious to. Or even the "little miracles" like this one. We take these things for granted. We invite you to consider all the little things that have gone well today. What coincidences happened and which things were perhaps more than coincidence? God provides in many ways for each of us and doesn't ask for anything in return, except a grateful heart.