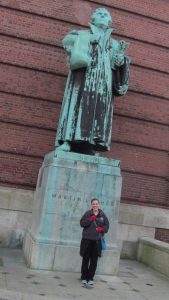 Recently we are seeing more and more advertisements for "pilgrimages" being offered from Hamburg to Wittenberg in celebration of the 500th anniversary of the Protestant reformation. These advertisements can be seen everywhere — from billboards to TV! We are surprised to see the pride many Germans feel about Luther's life and work. We know some who have made the 4 hour trip (from Hamburg) to see this historic place. Even people without a church affiliation are excited about this milestone anniversary. Every church we visit seems to be talking about Martin Luther's legacy — especially his teachings emphasizing the importance of faith in Christ and personal devotion through reading the Scriptures.
All this buzz makes us think about how much culture has changed in 500 years in regards to the secularization of Europe. It also makes us think about the impact one person's life can have! One person, who is willing to ask the difficult questions, and not just accept the status quo, can change the course of history.
The church in Germany is at a crossroads. We wonder if history will repeat or correct itself. We wonder what we can do to help and not hinder the spiritual culture in which we live. We wonder how we can channel some of Luther's passion and use that in our context in Pinneberg. We wonder what the future will bring. We are glad to see people excited about church history this year in Germany. Now, we pray for the Holy Spirit to bring revival so that the church doesn't just stay in Europe's history — but becomes a vibrant part of it's future, too.