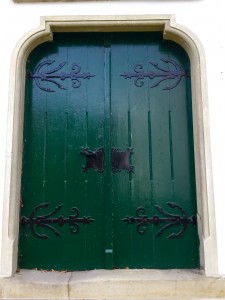 Last week, for the first time since we moved in, we locked ourselves out of our apartment. Perhaps this is a miracle in and of itself because we are not allowed to make copies of our key! Stephanie and I had tired minds after babysitting a friends' children all day. We both figured the other person had the key and we made our way to the ice cream store down the street. Once we realized what had happened, we asked our neighbors if they had any ideas. We tried "breaking in" with a credit card, using force, and our neighbor even tried using a screwdriver to gently pry the door open. But nothing worked and it was getting late on a Saturday night. Most locksmiths were closed so we called a 24-hour service and wait.
While we were waiting, God showed us a side of ministry that we are sometimes reluctant to embrace; the opportunity to receive care from others. As missionaries, we are usually looking for ways to care for others. And let's be honest…it feels "good" to help others during their time of need. But today, our predicament left us in need of that very same care. As it turns out, once we made our needs known, 4 different families in our building offered us help in the form of a phone to use, a warm place to stay, cake to eat and one man even offered to wait outside for us until the locksmith arrived! Our neighbors helped us during our time of need. They could have very easily done nothing, but they offered support to us and showed us hospitality. What's more is that during the 2 hours we waited for the locksmith to arrive, Stephanie was able to be a listening ear for our neighbor who is going through a divorce. Sometimes having limited skills in language is a blessing in disguise — we are reminded to simply "listen" and offer more compassion through eye contact and body language than we ever could with words.
Although the type of kindness showed by our neighbors is somewhat typical in American culture, it is not typical in northern Germany. To be invited someone's home without notice is no small thing thing! God's Spirit was working in the midst of the openness of our neighbors. Certainly to bless us, but also to bless our neighbors. Often times, our neighbors will say hello but not much more than that. Because of our need and our neighbor's openness, our relationships grew deeper that evening.
We encourage you to look for ways God can minister to you through other people. Maybe it's a situation similar to ours; maybe it's allowing a friend to treat you to lunch when you normally buy, maybe it's opening up to someone when you are normally a private person. No matter the occasion, open yourself to receive the gift and allow God to care for you through others. This two-way channel of blessing is God's intention for the church and grows His kingdom in a way that pleases His heart