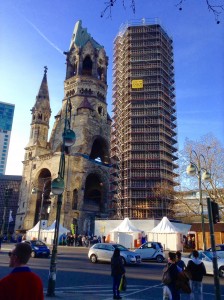 Last week we enjoyed a weekend getaway to the capital city of Germany: Berlin! We had never been there before and were excited to venture to another part of Germany. We had many firsts as a family, including riding the super fast (ICE) train, eating authentic Berliners (sugar-covered, jelly-filled doughnuts), visiting many historic sights, seeing one of Europe's busiest and biggest train stations and observing destroyed architecture all over the city. Because the Berlin wall only came down in 1989, Germany's capital city has not had the same amount of time as the rest of Germany to rebuild after the severe bombings of WWII.
The destruction of the war is still quite visible, which really surprised us. We figured that areas of Berlin were still being re-built, but to see this re-building in person was fascinating. Our first thought was, the Second World War was about 70 years ago, how could parts of the city still look this way? We also thought about the fall of the Berlin Wall and communism, which happened almost 25 years ago.
It's easy to look at cities or people and make judgements about apperence. There is always a history and a story behind each place and person. It doesn't help the situation to make assumptions when see things around us that are broken or don't function like we think they should. We have to look at the whole picture, which, of course, we are unable to do without God's grace and help. Simply connecting the dots, we see and assume the rest of the details give us a distorted view, that is not always accurate.
God is trying to show us as workers in His kingdom this important concept about His people. Often we see people and look at the outer shell but not the internal parts. We know there is stuff in there, behind the wall, but looking deeper isn't always an option, or desire, in our busy lives. We keep walking, we keep taking pictures and going to the next big attraction. We could understand so much more if we simply looked deeper.
Old and new, completed or unfinished, cared for or neglected; all have a place in the Kingdom of God. We become richer when we realize all parts of the body come together to form something even more significant than any one person can be on his or her own.