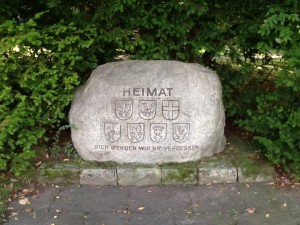 We have been in Germany for a little over a month now! We wanted to take a moment to share some of our favorite things as well as things we miss the most (besides the obvious): our friends and family!
Phillip
Favorite things about Germany…
1. Fransbrotchen (yummy Hamburg treat, a flattened croissant with cinnamon and sugar)
2. "River boat cruising" (a 1 hour ferry ride on the harbor which is included in the cost of a train ticket!) A new Sunday afternoon family tradition.
What I miss from the U.S….
1. Girodano's stuffed pizza (with pepperoni and green peppers)
2. American sized pillows (they don't really sell what we consider "standard" size, most are big squares instead of rectangles)
Stephanie
Favorite things about Germany….
1. Slower pace of life — i.e. people generally don't take coffee to go but enjoy it with a friend
2. Seeing God's image in the German people. I feel a sense of love and compassion for the people here.
What I miss from the U.S…
1. Our car — and the independence that comes with owning a car
2. Understanding the language and connecting with people on a deep level
Gabrielle
Favorite things about Germany…
1. That we live near a gelato parlor (we can walk there in 5 minutes)
2. My school (because I have recess everyday and I love my teacher, Frau Thiel)
What I miss from the U.S…
1. Walking to Target and getting little treats at the dollar spot
2. My old room and toys (especially my trampoline)
Charlotte
Favorite things about Germany….
1. All the cakes and pastries (especially the ones filled with chocolate)
2. Riding the train and seeing other trains go by really fast!
What I miss from the U.S….
1. The YMCA nursery
2. Chick-fil-A
We are so grateful to have these items as our favorite things and we also grieve the loss of items we miss. If you'd like to, leave a comment with some of the things you missed the most when you moved sometime in your life.
We are rejoicing in the fact that we are completely taken care of and "at home" in Christ, no matter how new or unfamiliar a place seems right now!