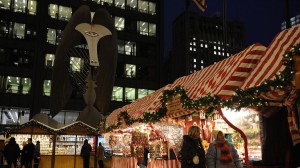 While most of the world is tearing down Christmas decorations and gearing up for Winter, many in the Christian church are still celebrating Christmas. This is because the "12 days of Christmas," as typically celebrated by the Western Church, does not end until Epiphany on January 6th. Epiphany, or the "Day of the Kings," is the day the Magi arrived to meet the newborn Jesus and present Him with gifts.
While we remember the birth of Christ on Christmas day, we also remember the world's response to Christ at Epiphany. These responses are mixed. While many do respond to the birth of Christ with wonder and worship, many others respond with contempt and disbelief. Sadly, many people in our world only follow the liturgies of consumerism and self-pleasure instead of responding to the birth of Christ by following the path to Him.
This year, we continued our family tradition of taking the girls to Christkindlmart in Chicago. It's a place that is magical.  It's in the middle of the city (Daley plaza) and is set up like a small German village Christmas market or "Nurnburg." It has little shops selling German food, Gluehwein, glass ornaments and all kinds of treasures.
I love how God surprised us with a Christkindlmarkt right here in Chicago.  A little piece of Germany in our backyard.  This experience reminded us of Germany and why we are going to serve His people there.  Many Germans are lost and searching for the meaning of life. German religious culture is not Post-modern like American culture. It is Post-Christian. Christ is not even an after thought for many Germans. He is simply never thought of at all. Epiphany is just another day and holds no special meaning or relevance.
We encourage you this Christmas season to discover, explore, or journey to the calling God has given you.  We walk this path to the Messiah together as brothers and sisters.
Merry Christmas and a blessed Epiphany to you. May we all respond to the birth of Christ with our presence, wonder and worship and be faithful stewards of the gifts we bear.
P,S,G and C