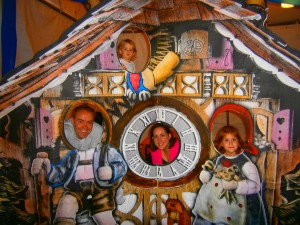 Recently, we ventured out with another family to an Oktoberfest celebration here in Chicago.  It was SO much fun (viel Spass)!!!  We thought it might be a good idea to expose G and C to some German traditions as a part of our cultural preparation.
We entered the big tent (sponsored by a local Hofbrauhaus and similar in appearance). We were delighted to be greeted by the sound of German polka music and the smell of fresh baking pretzels, schnitzel and potato pancakes.  Upon entering the tent, we felt as if we were leaving Chicago and entering old world Germany! We sat down at a long, wooden table and ordered some food.  We then proceeded to munch on our pretzels drenched in delicious, spicy homemade mustard while we were entertained by traditional German dancers.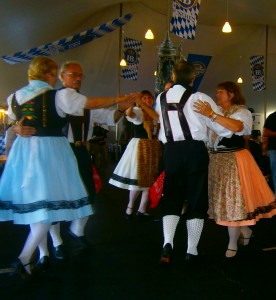 Our oldest daughter loved the dancing so much she went up to the dancers and practically danced with them.  One thing we really enjoyed was seeing, hearing and smelling what our life could be like (at least in the fall) in Germany.
Truth be told, we heard from German friends that this festival is not a "true German festival".  Bavaria, where the festival is held in the south of Germany, is not really Germany (to some) because it is south of the Elbe river.  In actuality, the Elbe river is in the VERY north of Germany.  One thing about Germans is they are very proud of their local heritage. Each city within Germany is like it's own little country complete with national pride, food and tradition.