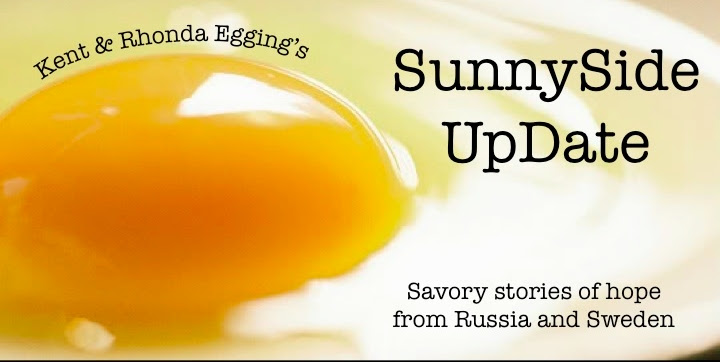 Crunch, thump, thud, scream, slam! The side mirror hung at an unnatural juxtaposition to the car door with blue and red wires dangling all in the wrong places. I left the car in the more capable hands of my mother as I walked home after my first driving lesson. I think the tree died.
I didn't give up. I read the manual and my mother took me out again. I eventually passed the driving exam with an "A" rating.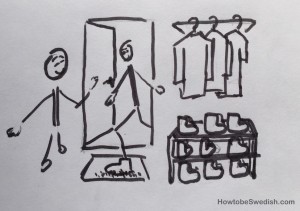 Assessing and negotiating cultures within cultures, within cultures feels like learning to drive all over again. We are trying to learn the rules of Swedish culture. For instance, always shake hands with everyone in the room, remove your shoes before entering a Swedish home, never slurp down anything and request more, the minimum time required for a proper visit is three hours, If there are less than eight people eating at one table everyone waits to begin the meal at the same time.
The "New Swedes" who have come in the past year bring their own standards and rules for polite behavior. They don't necessarily care if you remove your shoes, but you must stay for the strong, black, cardamom tea. The tray of tiny cups carried by one of the women of the home, served with small spoons to stir in the mega volumes of sugar required for palatability.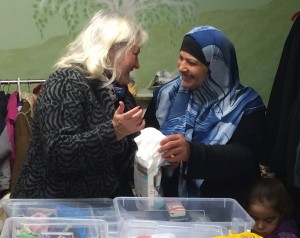 Conversations among Swedes remain polite and "in the middle" of any controversial topic, but our friends who have escaped with their very lives from the East do not follow these same rules. There is no middle of the road for knowing who is wrong and who is right.
On a recent Wednesday evening I stood with bags of new underwear in my hands negotiating with a tiny woman covered in dark fabric. Her blue eyes darted from me to the bags I held. She smiled. We like each other, but she was determined to negotiate a fair price. "Yikes" I thought, "I need a manual!"
My Syrian co-worker in the clothing room explained, " We need to charge a small amount for our donated items in order to show respect." I don't understand all of the many cultures swirling around in our small village like different vegetables forming one good stew, so I listen to my co-workers and we placed a value on all the items in the clothing room at the church.
My blued-eyed buddy and I agree on a price, and judging by her big smile, I think she believes it is a good price, so we are both happy. Her teenage daughter then steps up to the plate to ask me to find a proper Muslim bathing suit for her. I want to explain that I am not a personal shopper. My stomach begins to ache a little, I chew the corner of my lip, as everything I ever read or listened to about missions swirls around in my head. I want to continue a good relationship with all my new friends from the East, but what will really help them? What will restore their dignity?
"Objects in mirror are closer than they appear."  Am I listening to the warnings? I look into this young woman's eyes. I know three of her siblings died before the family escaped from Syria. Her mother just had a baby and this teen is the main caregiver. How can I ever deny her anything that I can easily give?
I erred on the side of generosity. I found appropriate swimwear for Muslim girls (the Swedes require that all School children learn to swim). I am a temporary hero among the Muslim population of the village.
Like a new driver, relying on the wisdom of printed material and other experienced drivers, we power forward. We might run over a few trees, but the forest will stay deeply rooted in the foundation of Jesus proclamation to go into all the world proclaiming the gospel and making new disciples of all people.
Please Pray for us:
…for the security situation in Europe and how it effects relationships between people groups.
…for the Wednesday evening Swedish language class at our church, and the bridges that are being built with the Muslim community in our village.
…for the pastors/churches of Sweden.
…for the pastors/churches of Russia.
…for our ministry with the pastors and churches of Kaliningrad, Russia in the first 2 weeks of April.
…for health and birth of our grandson, Theo, and his mother.