"Then he said to them all: 'If anyone would come after me, he must deny himself and take up his cross daily and follow me'." Luke 9:23
Dear friends,
"How much do pastors and the Congo Covenant Church (CEUM) contribute towards continuing education?"  I am often asked this question by ministry partners and I could recite the metrics:  Pastors give $4.00 in participation fees for the 4 day seminars and $2.00 for a subsidized practical theology book.  The CEUM provides 4 capable pastoral trainers who are tasked with the continuing education program and minimally compensated for their commitment.

But beyond the metrics there are plenty of other costs which came to light as I tabulated the questionnaires of pastors who attended the recent Wasolo and Bumba continuing education seminars.  Pastors were asked how long it took for them to come to the seminars and whether or not they had difficulty along the way.  Over half of the respondents said they did have problems.  Here are some of their comments:
"The road was so bad, lots of pain."  "My feet became swollen." "The sun was so hot." "My bike pedal broke off." "I got sick and was hungry."  "It rained a lot."  "The police took my money."  "My handlebars fell off."  "We took two boats and they made us pay a lot of money."  "We ran out of fuel."  "State officials made me pay a bike tax."  ."  "It took me five days to come."
And how did they come?  They came on foot, bicycle, motorcycle, boat, and commercial truck.  All were glad to have come.  Why did they do this?  They were coming in search of growing in their Savior at the cost denying themselves, experiencing hardship, and undergoing considerable risk.  There are no garages, no AAA, no hotels, no restaurants, and extremely limited communication.  You can get an idea of what roads they came over by viewing the Congo Roads video.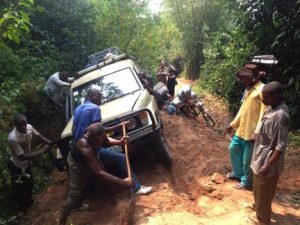 While the monetary contribution is minimal, one must keep in mind that the Democratic Republic of Congo ranks among the 10 poorest nations of the world with a $484 per capita income.  $4.00 is a lot, especially if your congregation only has 8 people.  But the real cost became more clear to me in learning of their stories of how they got to the seminars, which emblematic of just doing life and ministry in the Congo.
May the dedication, commitment, and thirst of these pastors, serve as an inspiration as we continue this Lenten season's journey to the cross!  May the Lord bless you!
David Stockamp
Missionary – Evangelical Covenant Church