Covenant Missionary Fred Prudek will be visiting NPTS' sister school the Protestant University of the Ubangi (UPU) soon.  Please read below about his planned trip and give thanks that his visa has come through for the trip:
On March 7th, I, Fred, will be flying to Brussels and then onto Kinshasa, DR Congo.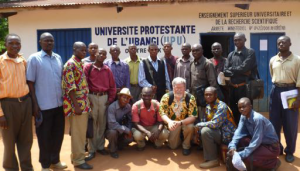 On March 10, another colleague and I fly to Gemena, about a 5 hour trip in a MAF (Missionary Aviation Fellowship) plane which seats 6-8 people max. I'll be teaching seminary students and pastors, usually 15-20, the book of Acts, similar to my teaching in Armenia in the fall. As you probably know, the book of Acts has much application for pastors. As I shared before, some of the students must walk as long as five days, through difficult terrain, to be able to attend the class. Quite a commitment! Cars and roads are scarce, if not non-existent for most in the interior of Congo. A bicycle is a luxury to own. I return to Prague on March 27th.
I am so grateful to God for answering our prayers. He has used many of you who have generously supported me so I can make this trip. Thank you for your prayers and generosity. And please continue to pray for my safety and health as well as my students, and for the Holy Spirit to enliven and make effective my teaching the book of Acts.