By Sara Blomgren, Serve Globally intern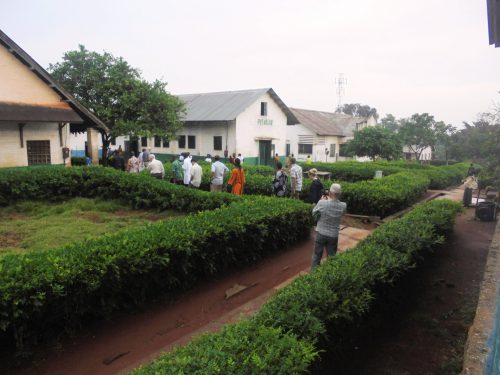 Covenant Kids Congo is excited to announce a new project in Karawa, DR Congo. The Water, Sanitation, and Hygiene (WASH) for Improved Health at Karawa Hospital Project is about to be launched, scheduled to begin with a startup workshop on April 22.*
This project is in partnership with World Vision, the CEUM (Covenant Church of Congo), and local community leaders. It will mark the first time that CKC is partnering outside Gemena, thanks to an incredible increase in WASH fundraising.
Karawa, a remote city in northwest DR Congo, is located about a three-hour drive away from Gemena on bumpy roads. The CEUM's Karawa Hospital is a major referral hospital in this zone. It provides 24-hour services and treats major illnesses and injuries.
A Critical Need for Clean Water
In Karawa, only 5% of the population has access to drinking water, compared to 12.1% in the Nord-Ubangi Province and about 26% nationally. Meanwhile, only 0.9% of the Nord-Ubangi population uses improved sanitation facilities. With a deteriorated water supply station, Karawa Hospital only has access to clean water three times a week (Monday, Wednesday, and Friday), for one hour at a time. Water is critical for safe care at the hospital, and yet an initial report indicated that only 7% of the needed water is available there.
The lack of access to clean water and adequate sanitation facilities has led to illness such as diarrhea throughout the Karawa community. In 2017, the Karawa health zone saw 10,795 cases of diarrhea in children under 5 years old and 125 deaths from diarrhea, according to a report completed by Rev. Etienne Mbewa, the CEUM's CKC Focal Point.
Karawa WASH Plans in 2019-2020
With the guidance of Rev. Mbewa and other community leaders, Covenant Kids Congo powered by World Vision plans to rehabilitate the existing water supply systems to meet the World Health Organization standard of 40 liters of water per patient and 15 liters per caregiver, while also bringing sanitation and hygiene services up to standard.
Two springs and 87 hospital taps will be rehabilitated, 12 new taps will be constructed in the community, and a photovoltaic pumping system will be installed. Approximately 1,400 patients who visit the facility in a month will be impacted, as well as 6,000 residents who will have new taps in their community.
Health facilities will also receive increased access to improved, inclusive, and sustainable sanitation, including a latrine block and the rehabilitation of a placenta pit. Meanwhile, training and awareness campaigns will improve hygiene knowledge and practices. Better clean water access, sanitation facilities, and hygiene practices will drastically reduce illness in the community, with the potential to save many lives.
Locally Led and Already Funded
The project is led and driven by community leaders who identified a need and have worked to meet it. Rev. Mbewa completed the initial evaluation for the need for water at Karawa Hospital, and then he worked with the World Vision DRC Ledia WASH Coordinator to conduct an assessment.
Next, local partners will participate in capacity building sessions and hygiene promotion trainings. A joint committee of community members and hospital management board members will be formed to maintain the water system long-term.
As a result of increased CKC WASH fundraising, we celebrate that the total budget for this project has already been covered! More than $1 million was raised for CKC WASH in 2018. If you walked the Global 6K or ran a Team World Vision race in 2018, then you helped make this project happen. Your donations and fundraising are expanding clean water, sanitation, and hygiene access in northwest DR Congo. THANK YOU!
As you continue to pray, give, and walk, we thank you for your continued support. It is a blessing to partner with you and with our friends in Congo.
WALK THE GLOBAL 6K FOR WATER: Sign up to host the Global 6K at your church on May 4, 2019! Learn more here and register at WorldVision6K.org/ckc.
Sara Blomgren recently served as an intern for Serve Globally. She graduated from Moody Bible Institute with a degree in Intercultural Ministries, and her home church is First Covenant Church in Rockford, Illinois.
*This blog post has been updated with the date of project start.