By CKC Project Manager Cat Knarr
As you settle into the Christmas season, take a moment to open up the new CovCares guide and consider what gift you might be able to give to walk with our brothers and sisters in Congo (and around the world!).
Through the CovCares guide, you can support many of the valuable ministries of the Evangelical Covenant Church, both at home and abroad. Want to support CKC? Give an "Invest in Gemena" gift to benefit CKC sponsored children, their families, and the whole city of Gemena in northwest DR Congo.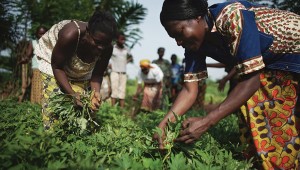 Gemena, a city in northwest DR Congo, is home to 350,000 people and many Covenant churches. Walk alongside our brothers and sisters in Gemena to strengthen agriculture, economic development, the water system, and other critical resources in their community. Give this gift.
Visit the CovCares website to explore more ways you can care for families, communities, neighbors, and the church.