By CKC Project Manager Cat Knarr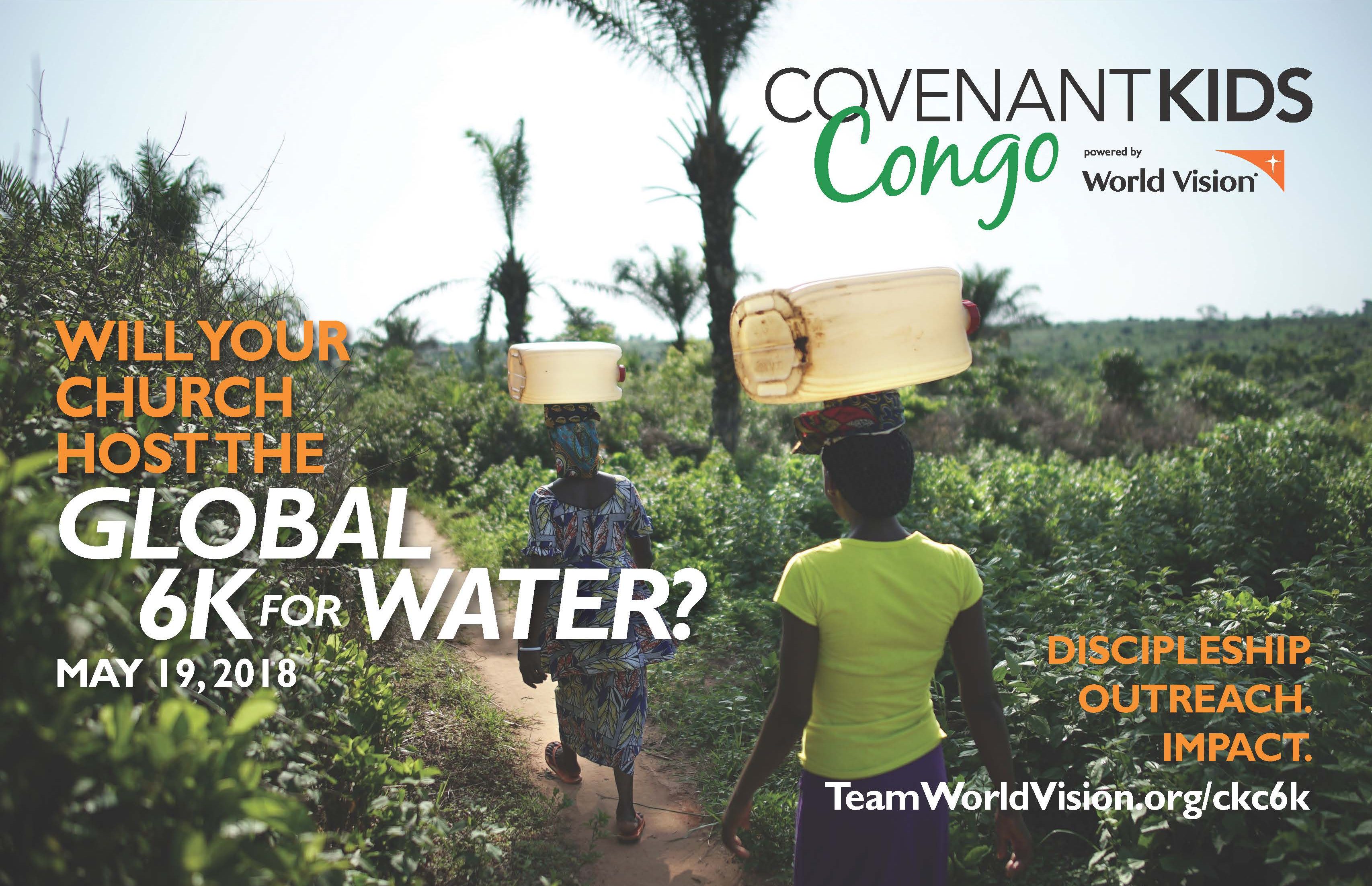 Every day, women and children in Congo walk through intense heat to collect contaminated water that could make them sick. This year, you can come alongside our sisters and brothers there – to walk the Global 6K in solidarity, while praying and fundraising for clean water in Congo.
The Covenant Kids Congo Global 6K for Water is a meaningful way to grow in your spiritual walk, engage your community, and expand access to life-giving clean water in DR Congo. On May 19, 2018, we invite you to host this event with your church in your neighborhood. Watch this invitation from Pastor Jon Ireland and Chrissie Velazquez of Oceanhills Covenant Church!
How It Works
Step 1: Register. Sign up to host the Global 6K for Water at your church! Watch a 30-minute live webinar to learn more. Sign up at TeamWorldVision.org/ckc6k. You'll receive a launch kit in the mail.
Step 2: Map a course. You can plan your 6K route in your own neighborhood, starting and ending at your church.
Step 3: Invite your congregation. In March/April, invite everyone to sign up to walk the Global 6K. Registration is $50 per person ($25 for kids), which goes toward your fundraising for clean water in Congo. Each person on your team can fundraise beyond that by asking friends and family to give to their race.
Step 4: Walk or run. On Saturday, May 19th, unite with your church and Covenanters across the denomination to walk 6km and pray for our sisters and brothers in Congo.
Step 5: Have a Sponsorship Sunday. Go above and beyond by hosting a Sponsorship Sunday the next day, to celebrate your walkers, share the impact they're making, and invite your congregation to sponsor a child through CKC. Your walkers will have the option to sponsor the child on their race bib!
The Impact in Congo
Only 16% of the population of Gemena, DR Congo currently has access to clean water. But the long-term goal is to provide universal water, sanitation, and hygiene coverage to this entire city of about 350,000 people – a HUGE endeavor. Come alongside our partners in Congo as they strive toward this goal.
More Than a Walk
The Global 6K for Water is easy to organize and host – and it's lots of fun! And yet, this spiritual journey that we are inviting you and your church on is NOT an easy one. Because we are not just asking you to walk. We are not just asking you to give. We are asking you to embark on a journey with our sisters and brothers in Congo as they strive toward a brighter future.
Through this experience, your congregation will learn more about what life is like in Congo, and together you'll pray for our friends there. We're working on developing a CKC Global 6K Prayer Guide and hope to make that available in March for your congregation to use as a resource.
So what do you say – will you join us?
The Global 6K is a discipleship, outreach, and community building event that blesses our friends in Congo with the beautiful gift of clean water. Check out Elspeth Atkinson's story below to hear why she runs for Covenant Kids Congo. Then join us on this journey! Sign up at TeamWorldVision.org/ckc6k.
When you register, please make sure to sign up at TeamWorldVision.org/ckc6k so that we can designate your fundraising for the CKC WASH program in Gemena, DR Congo. If you're not sure if you signed up on the right page, just contact us and we'll double check! Email us at CovenantKidsCongo@covchurch.org or call 773-442-6578.