By Cindy Buettgen, Winnetka Covenant Church
Winnetka Covenant Church in Illinois recently held a Letter-Writing Night for their CKC sponsors. First, the church shared an update about Covenant Kids Congo, and then everyone broke out the creative supplies! Beautiful cards were crafted to send to all their sponsored children. In this photo essay, Cindy Buettgen from Winnetka Covenant gives us a look inside this fun event.
"And he took the children in his arms, placed his hands on them and blessed them."
-Mark 10:16
Earlier this year, we gathered in the Upper Room at Winnetka Covenant Church to write to more than 35 Congolese children. These children are being sponsored by members and friends through the Covenant Kids Congo powered by World Vision program.
Blank white cards, colored pencils, and creativity were transformed into pictures and letters to each sponsored child.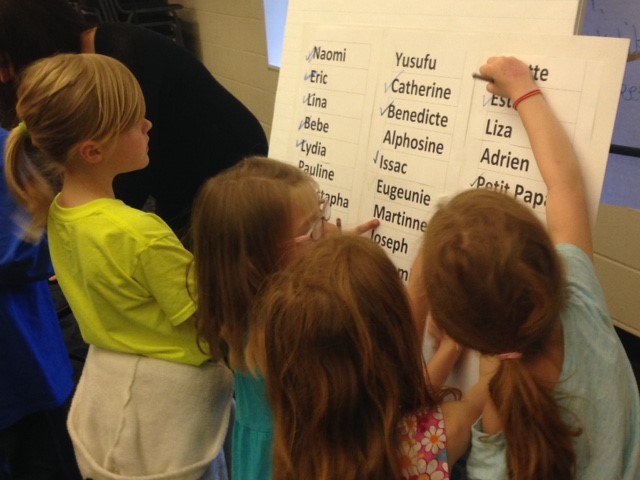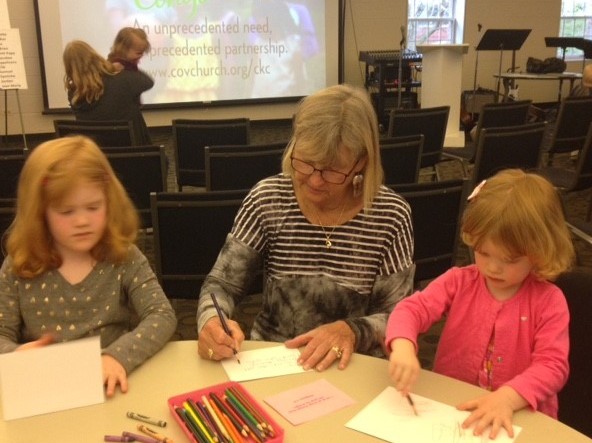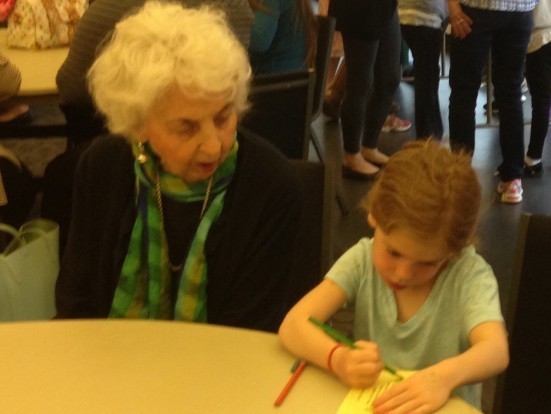 We prayed for the sponsored children, gathering them in our hearts and asking for God's blessings on them and their families.
We learned a Congolese song and danced, and connected with each other, strengthening the community of sponsors.
We included Bible verses with the letters.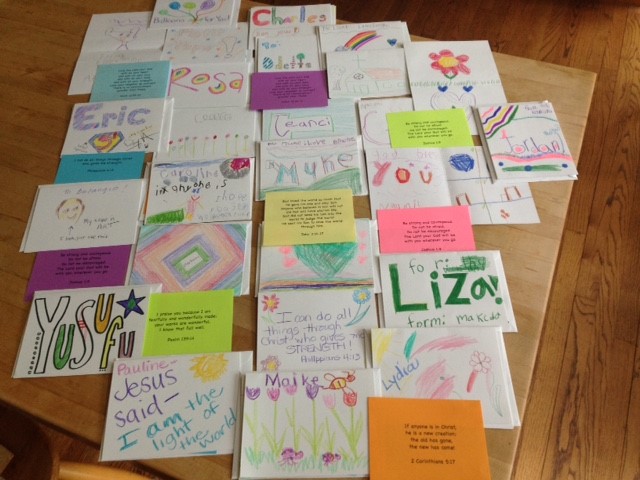 Thanks to all the sponsors and friends who participated to communicate the love of Jesus to our sponsored children in Congo.
Want to have a Letter-Writing Night at your church? Here are some steps to get you started!
1.) Set a time and make an announcement. Pick an evening that sponsors will likely be available. Announce it at church, in your bulletin, and on your email list or Facebook page. Make sure all your sponsors know!
2.) Have sponsors look up their sponsored child's ID number. In order to send mail to their sponsored child, every sponsor will need to have the child's ID number. This number can easily be found on CKC picture folders, World Vision mailings, and letters from sponsored children, or by logging in to your My World Vision account.
3.) Gather creative supplies. Markers, crayons, colored pencils, cards, construction paper, glitter, stickers, and more—you name it! Get ready to make colorful cards.
4.) Show a video about Covenant Kids Congo. Give your sponsors a quick update on Covenant Kids Congo and share a new video. Our favorite video is "The Impact of Sponsorship," which tells the story of sponsorship through the eyes of Deborah, a 10-year-old girl. "What I've Seen in Congo" featuring Pastor Greg Krieger is our latest new video. Even more CKC videos are coming out soon!
5.) Mail the cards to Congo! You have two options for mailing in the cards: sending them individually or in a package together.
To send the cards individually, put each card in an envelope, address it to the World Vision office in Congo, and write the sponsored child's name and ID number on the back. Follow instructions here. You will need to attach enough stamps to cover postage for sending the card to Congo. To make sure you have the right amount, take a sample card to the post office and have it weighed for mailing to Congo. Then ask sponsors to bring stamps, or mail the card themselves afterward. It usually takes more than one stamp to mail a letter to Congo.
To send the cards in a package together, make sure to write the sponsored child's name and ID number on every card, and then put all the cards in a 6×9 envelope. You might need multiple envelopes if you have a lot of cards; there is also a weight limit of 6 lbs per package. Then, address the envelope to the World Vision office in Congo, and send it in the mail! Please be aware that you will have to pay for postage to Congo. For example, Winnetka Covenant said it cost them about $22 per 6×9 envelope.
Look up the World Vision DR Congo office mailing address here.