Friends,
My heart is full of Advent lament, longing and mourning as well as hope, peace, joy and love!  I struggle to find the words to share with you the ways God has been with us this past week, but I do know that we are experiencing Immanuel in a deeper, fuller, richer way this year.
Let me try to describe the ways in which God has been achingly present with me and my family and with those I love and minister to here…
Picking Maya up from school and her excitement in showing me the piñata she made, then walking home from school as we always do with so much joy and wonder. Noticing the beautiful poinsettia trees, jumping down the steps near Chedraui, the supermarket, running up and then down the ramps, greeting our elderly grocery bagger friends taking their break outside of the store, receiving and giving smiles and waves from them and passersby, looking for the neighbor's kitty cat to give a little pet and arriving at our beautiful home to eat and rest.  

Sitting around the coffee table as a family in front of the tree, lighting the Advent candles, reading the story of John the Baptist and coloring together about preparing the way of the Lord.

Visiting the women's prison and singing together with the 40 inmates "Dios está aquí" (God is here) in acapella, reminding them and ourselves that God indeed is Immanuel no matter what our circumstances and that we have the freedom to choose to live with the gifts of Advent: hope, peace, joy and love.  Watching the women from our women's group share the sweaters and pajamas they collected with the inmates who have none, and the hugs and gratitude expressed by these dear friends.

Growing in vulnerability and love for one another as we continue to share our shame and pain with the small group of women that I am leading through Mending the Soul. Watching God bring healing through tears as we listen to, affirm and encourage one another.

Sitting in front of our Christmas tree in the dark alone and in silence. Reading through the Covenant Companion Advent devotional and God's love touching my heart in each story.

Explaining and celebrating Advent with the women's group. Even though things went completely different than I had planned, it became obvious that this was the Lord's plan.  This is the 5thyear that we have celebrated Advent together, reflecting on how we can prepare ourselves better for the coming of the Lord, so that we may receive more consciously the gifts of Advent and Christmas. However, this year the women shared about how in the past they had a hard time understanding as I explained this to them, for several different reasons:  some had been told by their pastors that Christmas decorations were sinful and idolatrous or just for Catholics (which led us into a good discussion on freedom in Christ, respect for others' beliefs and the reason for symbols), while others had been too busy with work and other activities (which led us to talk about learning to practice the presence of God in all things and to set aside time to prepare our hearts for Jesus's coming).  Lastly, Lupita, through tears, shared how she had never sat down with her family for a Christmas dinner nor received a Christmas present, because there is always fighting.  Lupita has experienced severe abuse and neglect from her parents and is currently in an abusive relationship with her husband. She said she didn't see any purpose in Christmas for her.  We gave her the space to cry and share, then surrounded her with hugs and prayer and shared the good news of Christmas with her:  we are her family and we love her, and God is with us especially in our despair and pain.  One woman invited her to come and spend Christmas with her, another shared how although she didn't have family to celebrate with she would prepare a special meal and set the table for herself and Jesus, another shared a similar story of fighting with her spouse but how God has worked in her heart to help her see how she needed to change and this year things were better between them.  We all agreed to visit Lupita on New Year's and take her out to see the Christmas lights in her town and share a meal with her. We ended our time together around the table enjoying good food and much laughter!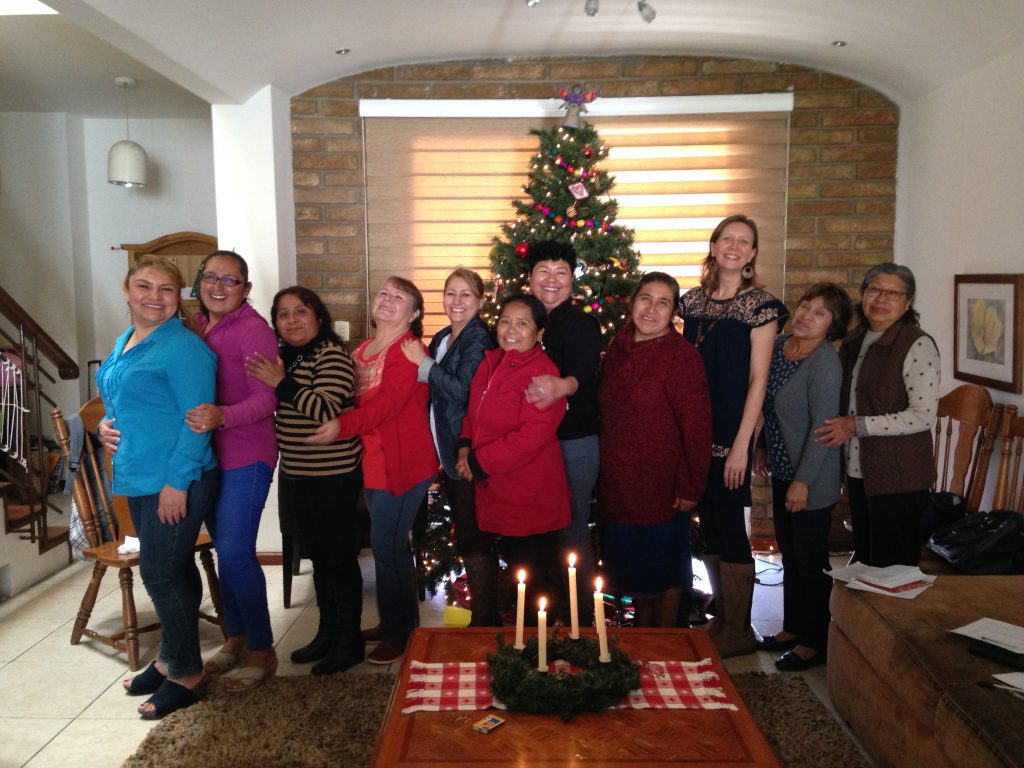 And so, yesterday as I pondered all these things in my heart, I allowed the tears to flow and struggled to understand all that I was feeling and experiencing, and then I read this…
Contemplation is the highest expression of [human] intellectual and spiritual life. It is that life itself, fully awake, fully active, fully aware that it is alive. It is spiritual wonder. It is spontaneous awe at the sacredness of life, of being. It is gratitude for life, for awareness and for being. It is a vivid realization of the fact that life and being in us proceed from an invisible, transcendent and infinitely abundant Source. Contemplation is above all, awareness of the reality of that Source. It knows the Source, obscurely, inexplicably, but with a certitude that goes both beyond reason and beyond simple faith… (Thomas Merton, New Seeds of Contemplation)
And this gave me words to describe what I and my family (which not only includes my blood relatives, but also my Christian sisters and brothers and neighbors) have been experiencing, and that is why my heart is so full.  I am grateful for the gift of Immanuel, God so present with us, bringing comfort, hope and laughter, and I remain hopeful that our joy will be made complete when Christ will come again to restore all things and destroy sin and death forever.