It had been a while since we had been up the mountains as a family, and so we decided we needed to make it happen during the kids' Spring Break, but with me leading the first MAEM Facilitators Retreat next week and with activities in church on Good Friday and Easter, we were only able to find 24 hours free from Maundy Thursday to Good Friday, but we decided to go for it, and I am so grateful!
We visited a town we had never been to before called Lachatao.  It's about 2 hours from Oaxaca City up very windy roads and Maya was starting to feel carsick, so I was very happy when we arrived at the quaint town with cobblestone roads and a majestic, old Catholic Church in the center of town.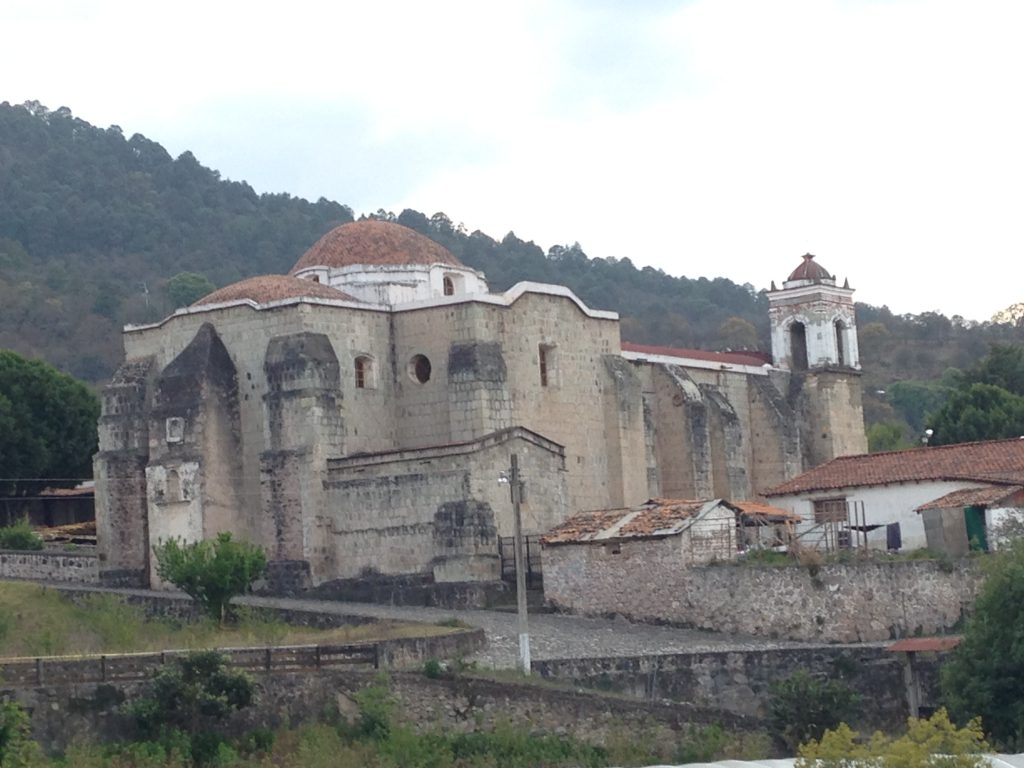 Two boys led us up to our cabin and after quite a hike up the mountain, we arrived to a breathtaking view of the whole town down below.  The cabin was also beautiful with much attention to detail, like flower painted ceramic sinks and a porch overlooking the mountains with a hammock the kids enjoyed.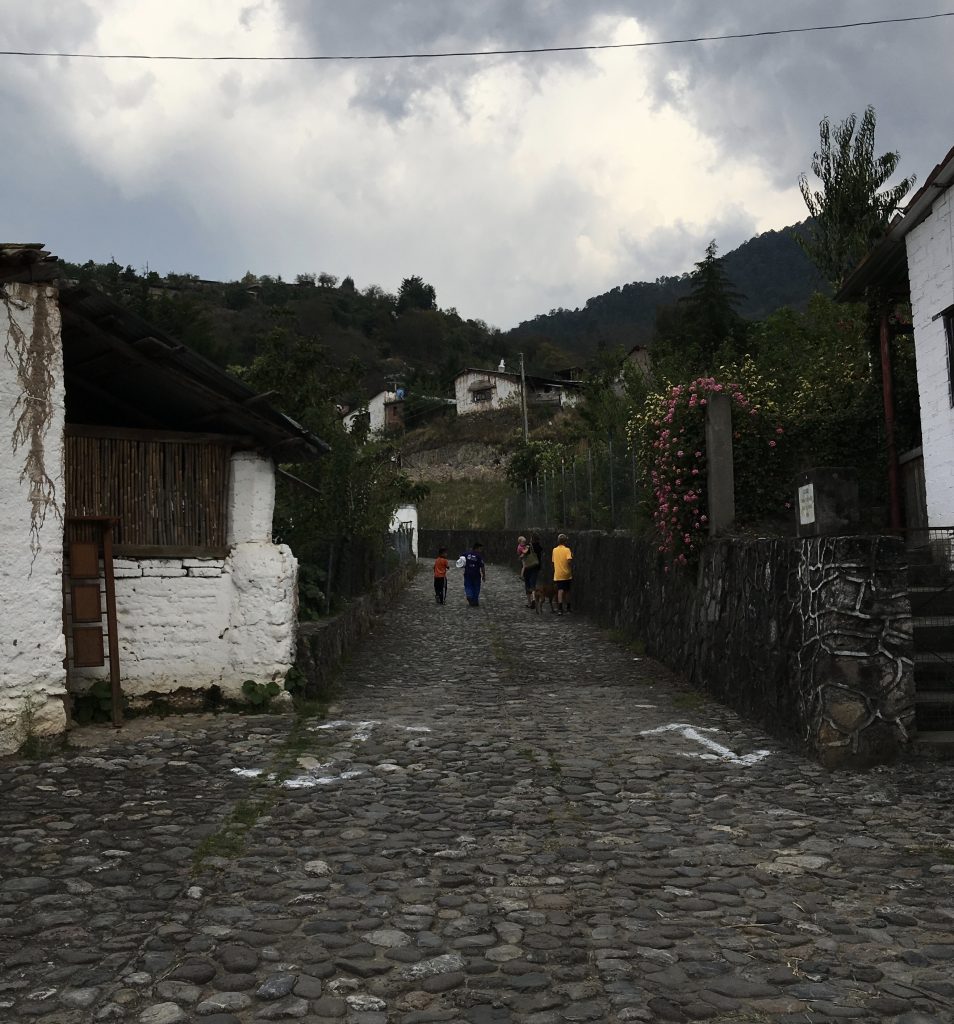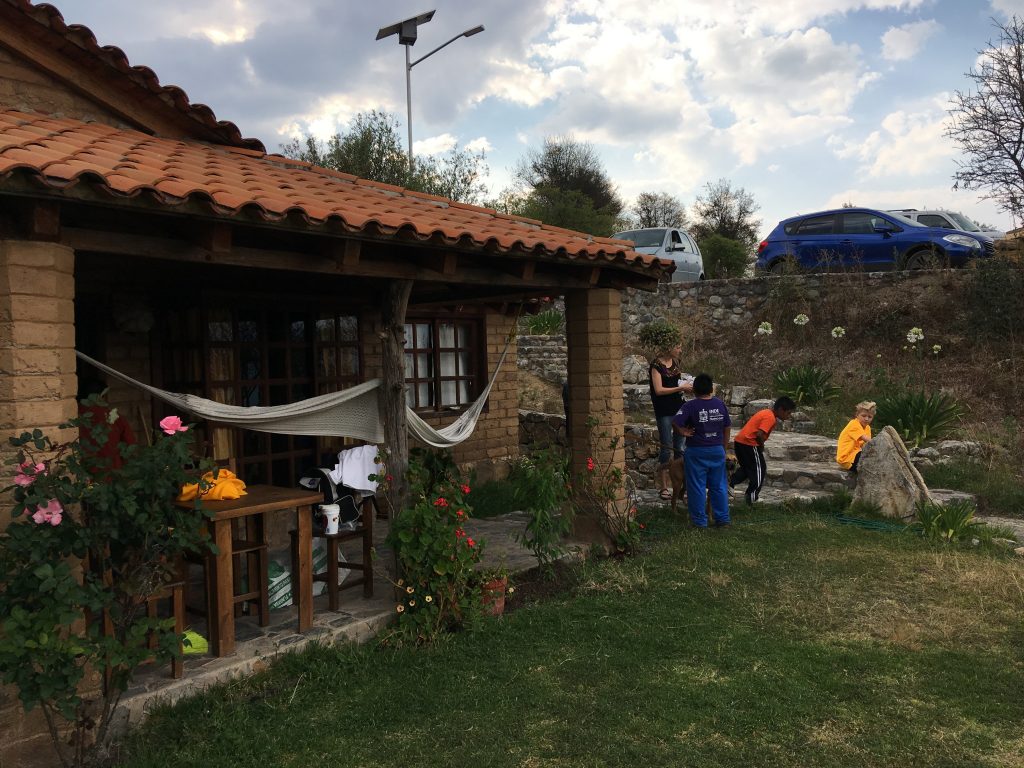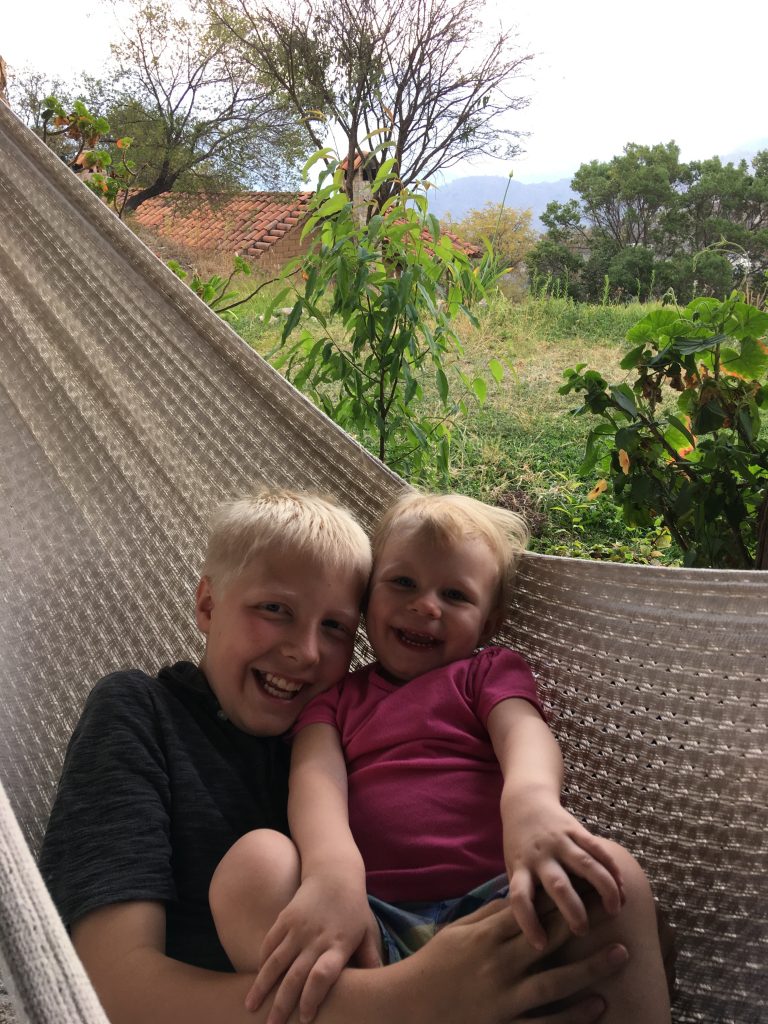 Then we made our way back down to town because they had told us at 5pm there was going to be a reenactment of the Last Supper, however, we knew it wouldn't happen on time, and so we got there around 5:45pm and it still hadn't started!  But we enjoyed talking with the local townspeople as we waited.  The boys quickly made friends tossing the football around in the open field in front of the church and then playing basketball on the court right next to the church into the dark.  Maya enjoyed the beautifully carved wooden see saws and the freedom to run and dance.  We also talked with the other tourists visiting from Canada and Mexico City.  At 6:15pm the reenactment started, and they read from the Scripture of Jesus's Last Supper with his disciples.  It was a beautiful scene!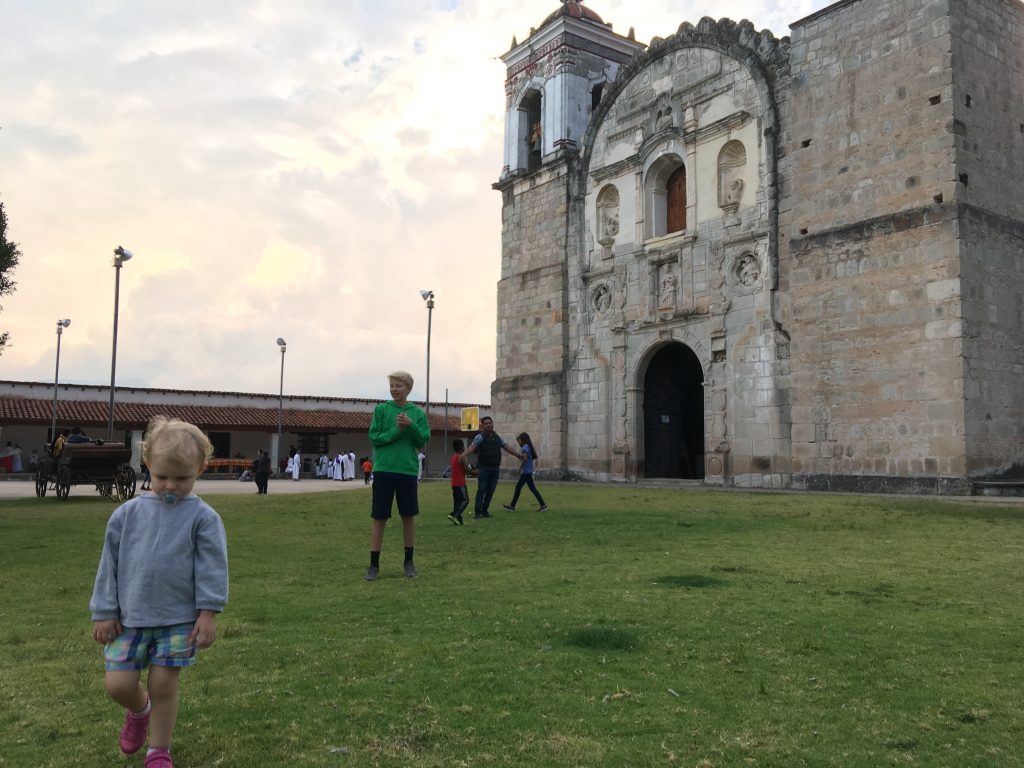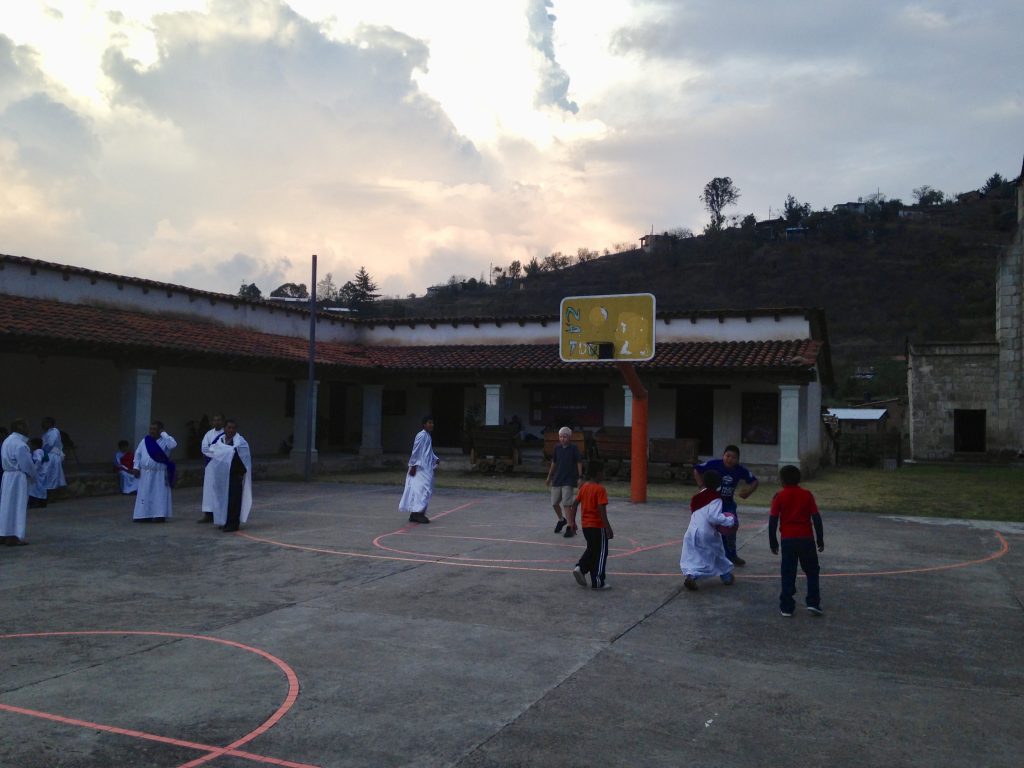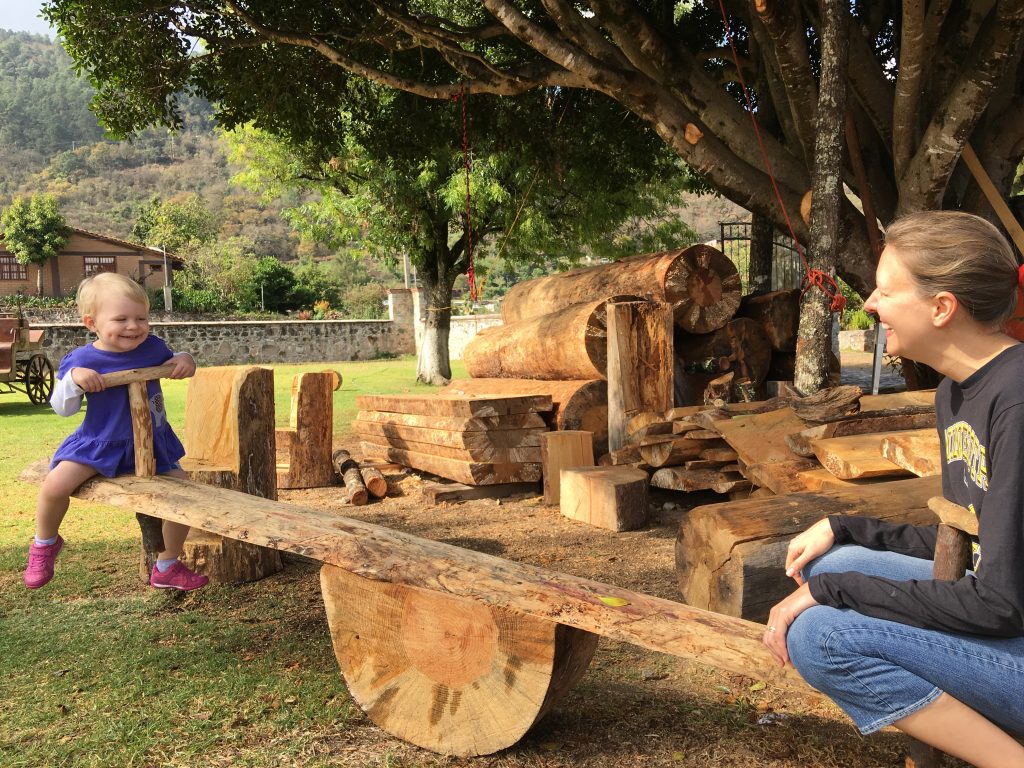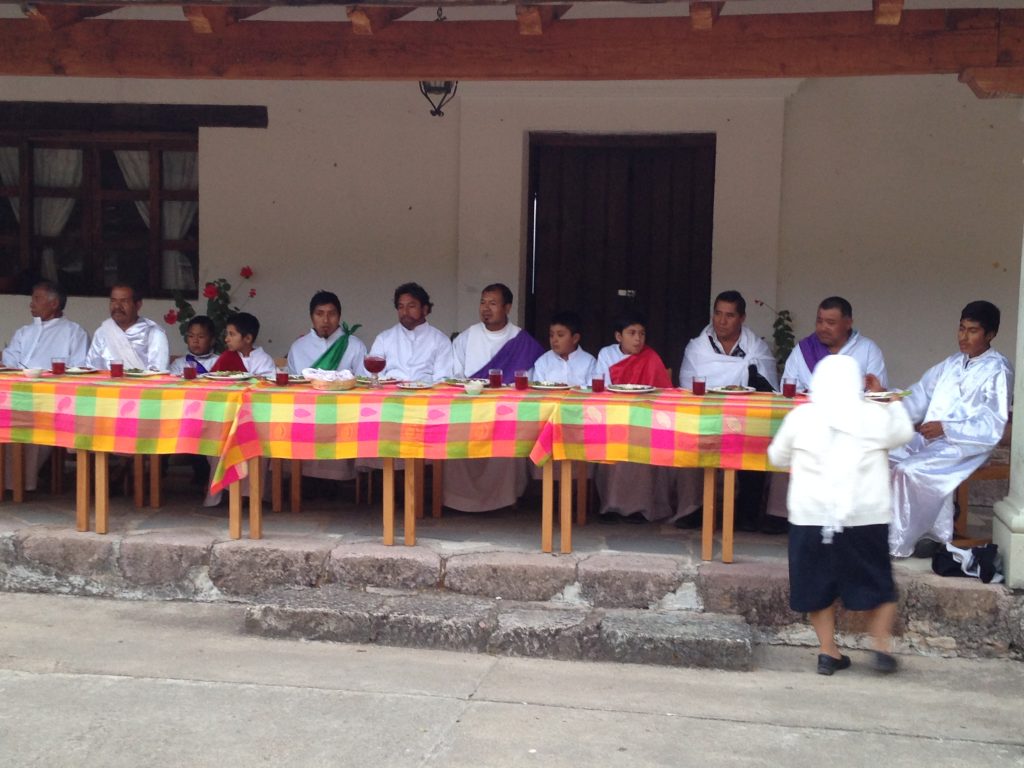 Then, we had been told they would serve everyone a taco or some sweet bread, but the women came around with plates full of delicious food – tasajo (thin beef steak), black beans, nopal (cactus leaf) salad, and hand made corn tortillas.  They were serving us with such care and everyone seemed to be having a lovely time together!  We were starving since we hadn't eaten lunch, so we finished every last bit!  And then we continued to play and chat with our new friends.  I was just trying to take in the beauty of it all.  We ended our evening in town with hot chocolate and quesadillas from the second floor of the restaurant overlooking the church and court.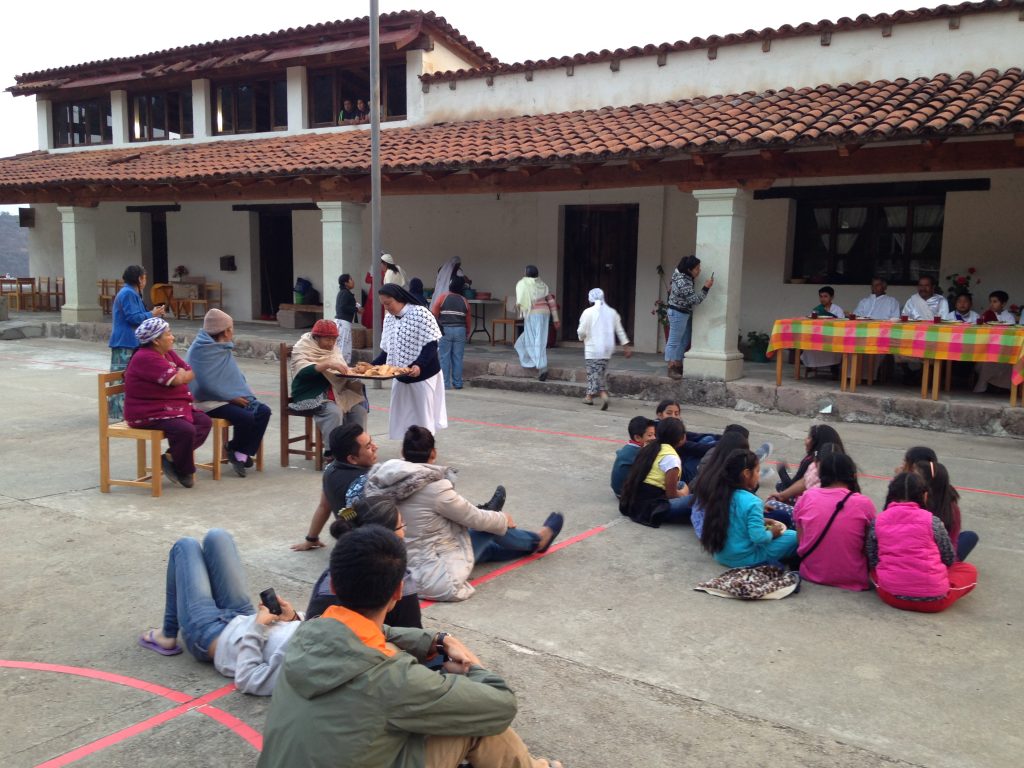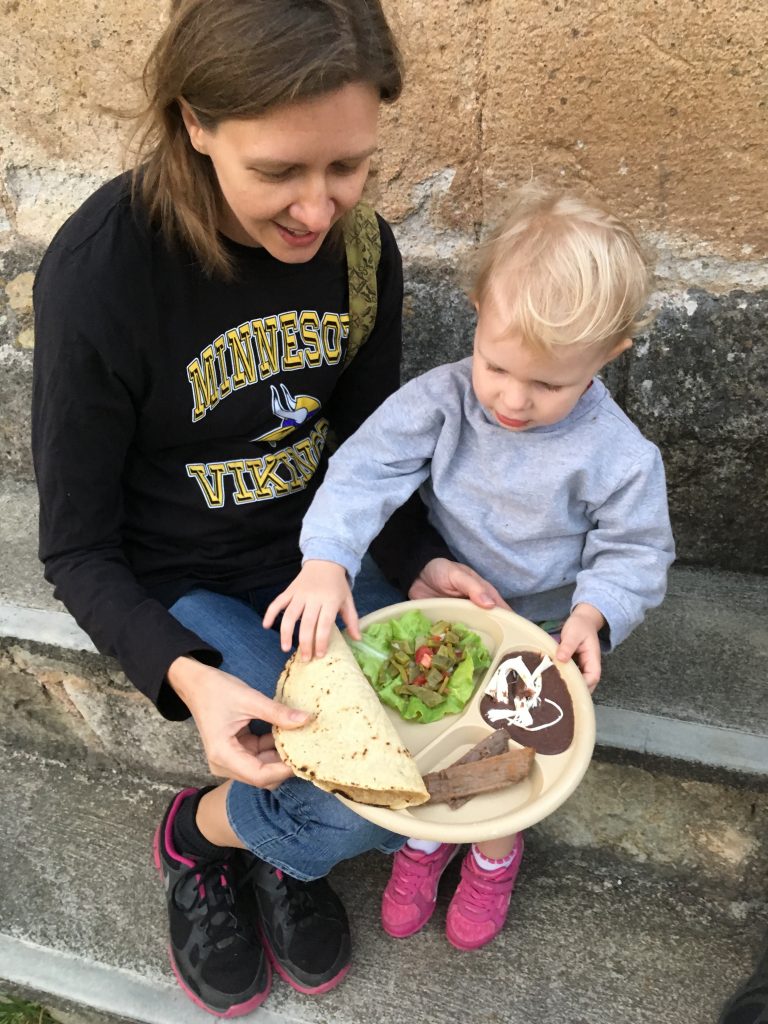 After that we went up to the cabin and got Maya right down to bed.  Lucas and I took Jojo for a walk and breathed in the fresh mountain air and enjoyed the brilliance of the stars and moon in the clear night sky.  We returned to a roaring fire in our cabin, where we finished the evening playing cards, laughing and joking around.
The next morning we slowly got going as we enjoyed the morning view of the clouds moving around the mountains all around and then made our way down to town for a delicious breakfast of beet, carrot and guava juice, more hot chocolate and eggs, beans and tortillas.  When we were done, we continued to hang out and play more basketball as we watched the townspeople come down to church with their costumes on as they were getting ready for their Good Friday processional.  We decided to go on a short hike, which didn't last long because all the kiddos were puckered out, but I certainly enjoyed the views, fresh air and exercise!  We went back to the cabin to pack up, since we needed to be back home for the Good Friday service at our church, and as we went back into town to check out, we saw that the processional was back at church, now reenacting the crucifixion scene.  What struck me was that one of the thieves being crucified was being played by a young boy, maybe around 10.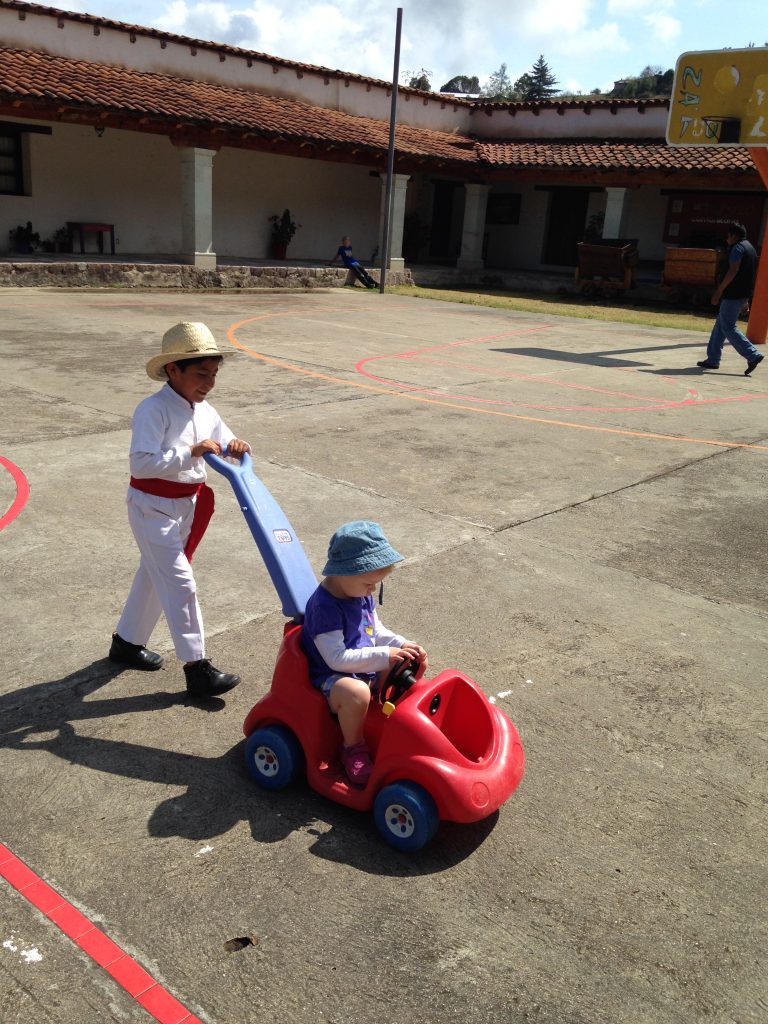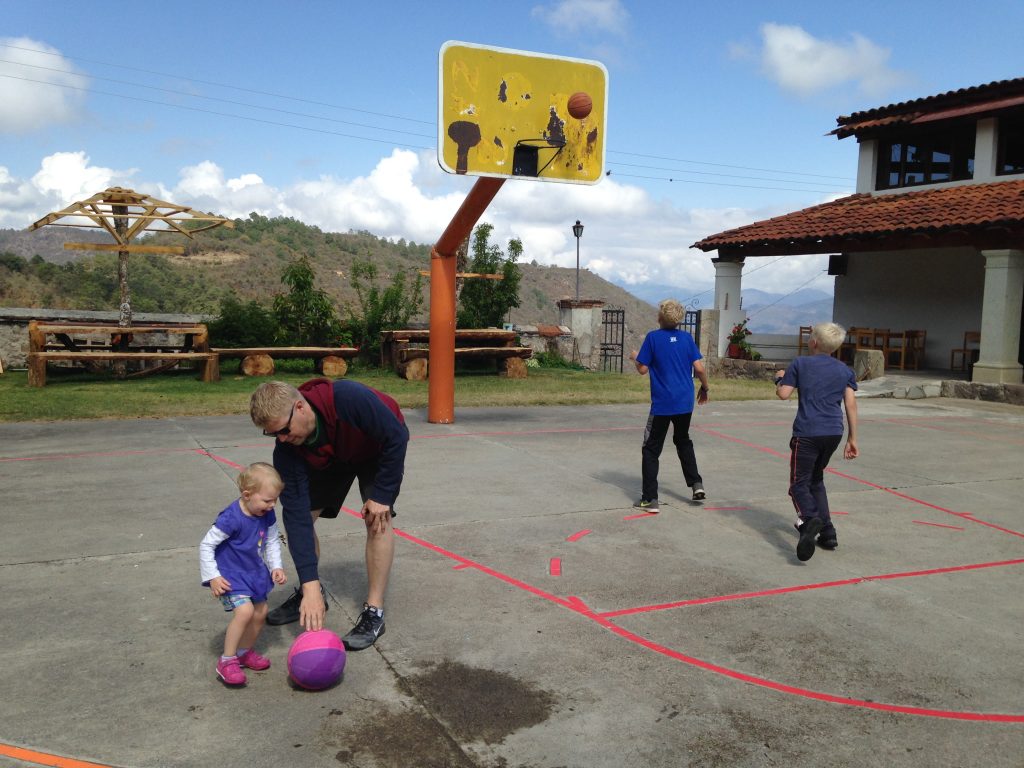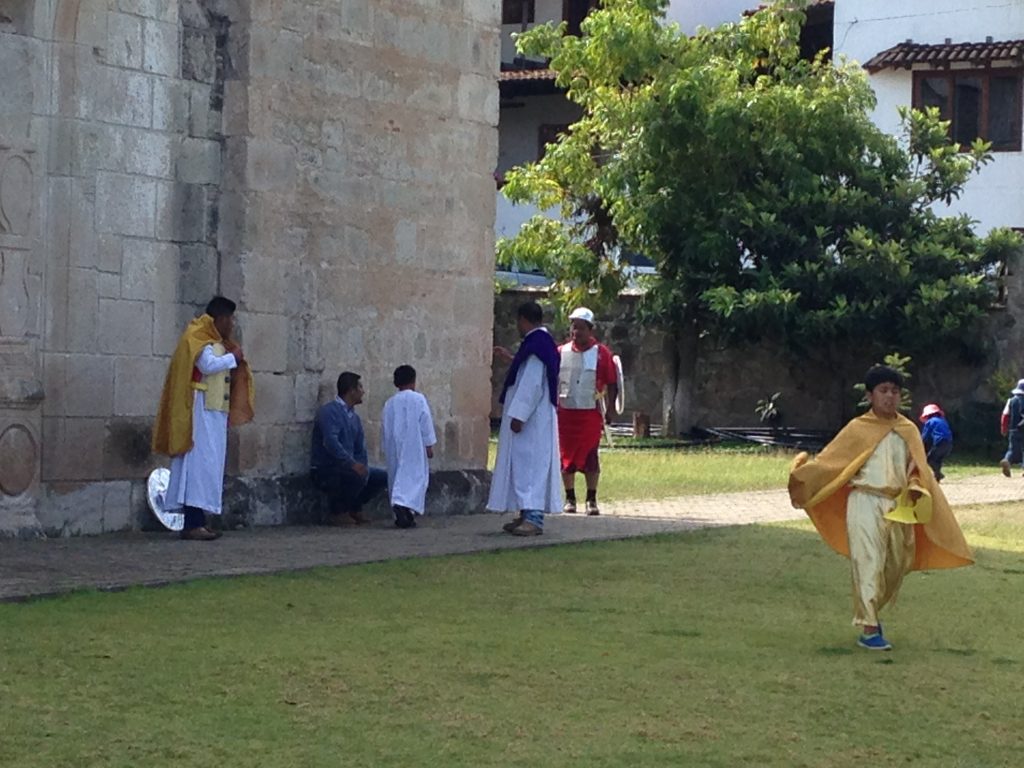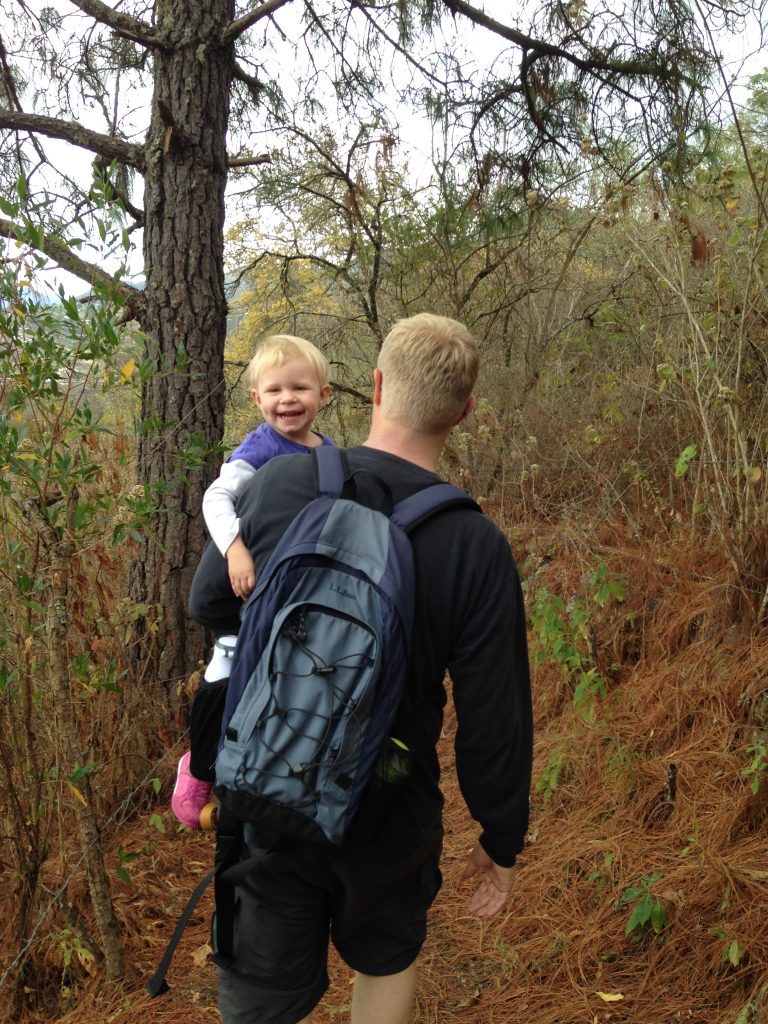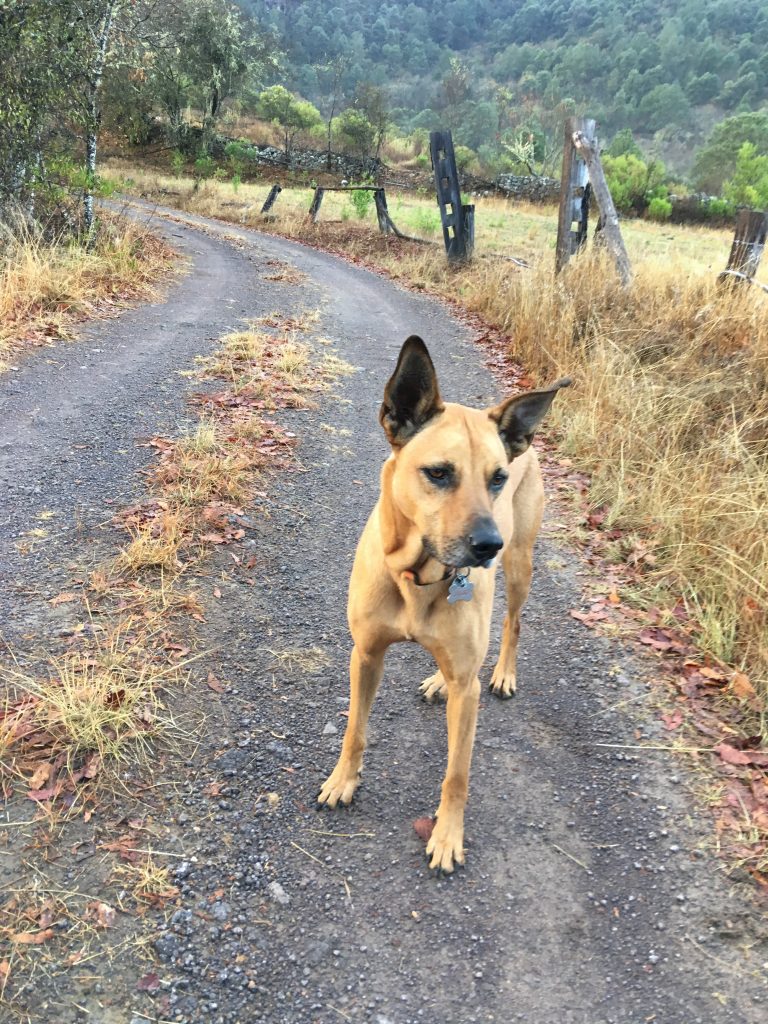 As we left town, I reflected on all that we had witnessed and experienced in such a short period of time: young and old, friend and stranger all welcome, simple and profound acts of service and love, beauty all around in God's creation and in the creation of men and women's hands and hard work, joy, laughter, sorrow, and silence.  My heart had been longing for all of these things, and in the midst of a very busy season of life and ministry, there was a part of me that didn't want to leave.  I left with a sense of longing and a call to make more time and space for these moments in my ordinary life patterns.  I also realized just how completely present I was to the gift of life and beauty all around me during those 24 hours, and I pray that I could live my whole life just like that – not so distracted or anxious about the future or past, but with the ability to be present to myself, to those around me, and to God with us always. Finally, I left with this song in my head and heart, a song we listened to on our way up to the mountains…