I had forgotten just how little free time you have with a new baby and the only way Maya will nap right now is in our arms!  And I can't say I am complaining because who can say no to holding and playing with someone this cute…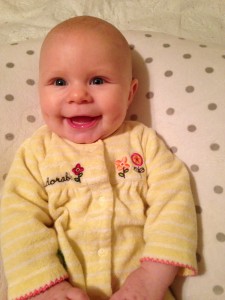 But, it has put me behind in keeping up with emails and writing.  However, I do believe it is important to keep you informed about this year and particularly our connections with our supporting churches, so here is an update of 2016 so far.
After a couple of slower months with less travel after Maya was born (which were such a gift for our family as we are getting to know our little Maya and adjusting to being a family of five), we started the New Year with several trips to supporting churches.   With the boys in school and a new baby, we've done fewer trips as a family, however, each visit has been such a blessing for us.  Nils enjoyed sharing with our partners at Castle Oaks Covenant in Colorado and South Bend Covenant in Indiana. Thank you for welcoming him!
We strategically planned a family visit to our only supporting church in Florida during the month of January, and we were so happy to escape the frigid cold weather of MN for a few days!  We had a great time meeting new and old friends at Bay Indies Covenant in Venice, a church that serves in a 55+ community.  Maya had a lineup of lovely women more than willing to hold her while Nils and I shared how God is at work with our theme verse being from Isaiah 43:19, "See, I am doing a new thing! Now it springs up; do you not perceive it? I am making a way in the wilderness and streams in the wasteland".  We shared how God has called us to look, learn and listen with our partners in Mexico to see how He is already at work and join Him.  We also shared about the new things God is doing in us as well as in our ministry.
One thing that made this trip extra special was reconnecting with dear friends Rose and Stan Edin from Erika's growing up years when her dad served at Thomastown Covenant in Staples, MN.  We were blessed by our time sharing memories together and were further blessed when Rose, an internationally known water color artist, allowed us to pick out a print of hers!
We decided that since we'd already be in Florida, we should add on a couple of days to our trip and visit Disney World – which was a very special family Christmas present made possible by the many Christmas monetary gifts from family and churches.  We all had so much fun!  We had some crazy weather, but it ended up being a great time to be there since the lines were super short.  An added treat was running into Jeff and Heidi Gustafson, close friends of Nils's family from his time in Green Bay.
At the end of January, Nils, Maya and I headed to Chicago for Midwinter, which is always a great time of connecting with friends and being refreshed and renewed!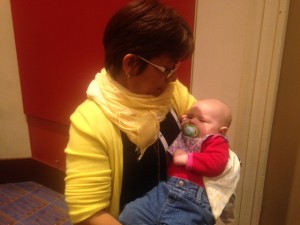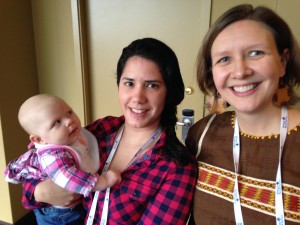 While Nils participated in his leadership cohort class, I preached at our home church Edgebrook Covenant and afterward they surprised Maya and me with a baby shower for her!  What a joy it was reconnecting with our dear friends.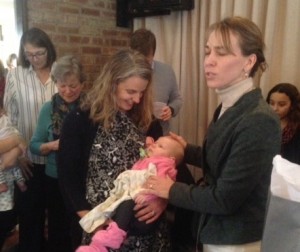 Just last weekend we visited Salem Road Covenant in Rochester, MN as a family and had a fun time at their square dance celebrating the church's 40th anniversary!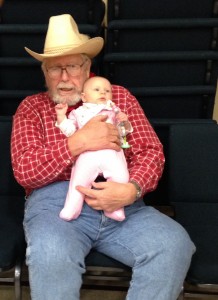 During the few Sundays we had free at home, we have enjoyed celebrating Advent, Epiphany and now Lent with our home church for this year, Abbey Way Covenant.  We feel blessed to be welcomed into their community with so much love!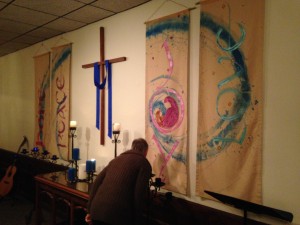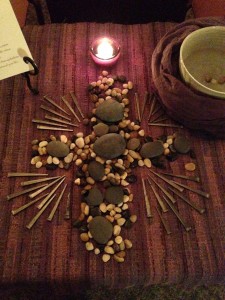 As we reflect on all the activity of these last few months we are so grateful for God's love and care for us demonstrated in the many people who have opened their home, hearts, and churches to us and in your prayers and generous giving. You are such a blessing to us!
Please continue to have our family in your prayers as we continue to travel and share with churches.  Specifically, please pray for Nils as he travels today to Oaxaca for a Latin American gathering of organizations supported by Covenant World Relief.  The rest of the family is quite jealous that he will get to enjoy Oaxacan food such as tlayudas, mole, memelitas, see our friends and dog Jojo and get away from the cold for a whole week!
Other upcoming travel/events you can be praying for:
Feb. 21 – visit Harris Covenant Church in MN
Feb. 26-28 – Erika and Maya participate in Abbey Way women's retreat
Mar. 6 – visit Rice Creek Covenant Church in MN
Mar. 11-12 – Erika leads workshop with Covenant missionary Katie Isaza at Women's Renewal of the Northwest Conference
Please let us know how we can be praying for you!