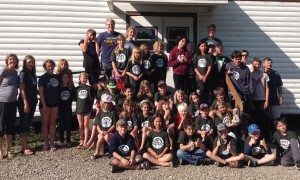 We just returned from an amazing week at Covenant Heights Bible Camp in Manitoba, Canada where Matías and Lucas were able to attend as campers and Nils and I were able to share about Mexico, God's love for the whole world and God's call on each of us to be missionaries right where we are.  Although the first day the boys pretty much ignored mom and dad, after we started sharing with the campers during chapel and the kids responded so well, we must have passed the "cool" enough test because then they interacted more normally with us.
Covenant Heights was a perfect fit for our family, as the camp was small (about 35 campers), well organized and yet laid back, and provided opportunity for the boys to make some good friends and for us to relax, experience God through nature and enjoy time with staff and campers. It was also exciting to witness the campers interest in missions, Spanish, Mexico and us as a missionary family.
Thank you for praying for us.  We had safe travels all around, and feel blessed by the whole camp experience.  Here are a few pictures from our week at Covenant Heights.
On our way back to the Twin Cities, we stopped in Thief River Falls, stayed with my uncle at my grandparents' farm where I spent a lot of time as a kid and shared with our supporting church there.  We really enjoyed reconnecting with friends and supporters there as well.  Thank you TRF Covenant Church and uncle Craig!