Fuentes Libres is a Covenant non-profit serving women in marginalized communities by providing access to loans for their small businesses while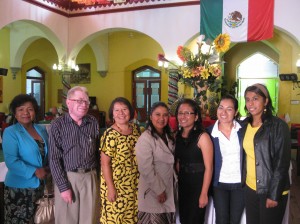 sharing the love of Christ in word and deed.  Nils has been regularly involved with the Fuentes Libres team in their Monday morning Bible studies and in facilitating a process of strategic planning for the next few years.  In that process they have identified a need to better train their staff (those who lead the women's community banks) in holistic mission and facilitation, and invited us to facilitate those training sessions.  We've had some excellent Bible study and reflection times with the team and soon they will be going to each group of women to evaluate with the women on how they may expand their ministry to address other needs and opportunities among them and with them.
In September, Fuentes Libres celebrated 15 years of ministry and I had the privilege of attending their celebration breakfast (Nils was in Monterrey visiting FUNDEFAM) and shared a word of blessing on behalf of the missionaries.  Here is part of what I shared, translated from Spanish to English….
"I had the blessing of being a part of the Fuentes Libres team when the ministry was just starting 15 years ago, and ever since its founding by the first Covenant missionary Nancy Jo Hoover, missionaries have always had an open door and the blessing of participating in this amazing ministry.  But, one thing that has always been clear is that this is God's work and God's mission.  In fact the mission of Fuentes Libres has always been the same as the mission Jesus came to fulfill according to the gospel of Luke 4:18-19, 'The Spirit of the Lord is upon me, because he has anointed me to proclaim good news to the poor.  He has sent me to proclaim freedom for the prisoners, and recovery of sight for the blind, to set the oppressed free and proclaim the year of the Lord's favor'.  And through our participation in this ministry, we missionaries, and I believe everyone who has been a part of Fuentes Libres, have grown closer to the heart of Christ for the weak and poor.
Another verse came to mind as I reflected on the heart of Fuentes Libres, 'for it is God who works in you to will and to act in order to fulfill his good purpose' Phil. 2:13.
It is all about God's mission and will.  All of us missionaries who have participated in Fuentes Libres have seen God at work, first transforming our way of thinking and acting and then transforming other members of the team and finally those whom we serve together.  Why?  It's not because we are good at what we do, but it is because God produces in us the desire and makes it possible to serve others according to his good will.
And so for all the lives and communities transformed through the ministry of Fuentes Libres, including my own, we thank you, Lord, and may all the glory and honor go to our God and Father forever and ever. Amen."