After a few crazy busy weeks, the boys had a Friday off, and we made a last minute decision to take a quick family trip to the beach in Huatulco.  We are very glad we did!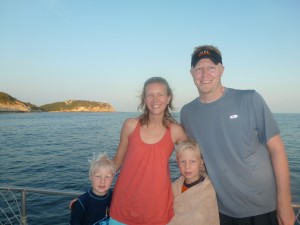 November is like spring here because the rainy season has just finished and everything is in bloom.  Leaving Oaxaca City we saw some of the brightest colors of bugambilia growing along in the high desert.  As we climbed up in the mountains, the vegetation grew much more lush, and we saw some of the most amazing wildflowers of all different colors!  As Nils drove us carefully through the windy, narrow mountain roads I found "All Creatures of our God and King" on my ipod and put it on loudly so we could join with his creation singing praise to our God.  Then as we made it to our halfway point, a small mountain village at 8,500 feet, we took a short break to breathe the clean, fresh mountain air, look up at the huge pines and eat our peanut butter and jelly sandwiches.  On our way down the mountain toward the beach we drove through coffee farms and began to see palm trees and enjoy the warm salt water breeze.
Our time at the beach was relaxing and fun!  We enjoyed the sun and the waves and taking a large catamaran to other bays where we tried, although not exactly succeeded, snorkeling with the boys.  The highlight for Matías was seeing dolphins swim up by the boat.  For Lucas it was playing in the waves.  God was so obviously present to us throughout the weekend- in one another and the joy of being together, in those who served us our meals or cleaned our rooms, in the people we met along the way, and especially in the beauty of his creation.  It was wonderful!