Many of you have been praying for Nils's brother John and some have been following his fight with leukemia on their blog — http://www.caringbridge.org/visit/johnclauson — over the last 3 and half months.
With the support and encouragement of our missionary colleagues in Mexico, Nils was able to travel to Colorado and be with John, his other brothers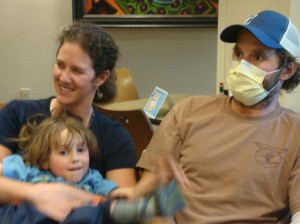 and parents during the early rounds of chemotherapy in April. That was a huge blessing. At that time John was responding really well to the chemo and the four brothers were able to play Rook together and share other good times. Since then, things have been up and down as John has had to battle not only the leukemia but also the infections and other side effects that come with having your immune system wiped out.
We were grateful to be together with our whole Mexico missionary team last week at our annual staff retreat in Queretaro (just north of Mexico City). As we shared more details about John's battle with leukemia, everyone there surrounded us with prayers for God's mercy on John and our family. We are so grateful for the love, support and prayers we have received from them and their encouragement to look at traveling as a family to the U.S. as soon as possible.
We have also been encouraged by our Mexican partners here, that even though it means canceling several commitments, they support our decision to be with family at this difficult time. We feel so blessed to work with such encouraging and supportive people.
So, we leave for Minnesota tomorrow. Nils travels the next day to Denver and Erika and the boys will be with her parents until we know when the best time is for us to join the family out in Denver. Please pray for us in that decision. We know that things with John's health are critical, but we continue to pray for a miracle. He has been struggling with pneumonia for weeks, and the doctors would like to do a surgery to remove an abscess on the lung, but will only proceed if the biopsy comes back with no cancer. They plan to do that biopsy next week. Please join us in prayer for a miracle for John.
We also ask you to pray for us. Matias got sick yesterday with a stomach flu, and we had a rough night last night. Please pray that he will feel better by tomorrow when we will be taking three flights to get to MN and that God would protect the rest of us from getting sick.
Finally, we ask for prayers for the many activities we will be missing due to our change in plans. Erika was scheduled to present a workshop at the Covenant youth camp that starts tomorrow. Pray that God will work mightily in the lives of all the youth that attend. She was also to present a workshop at the Mexico Covenant Annual Meeting, and this is an important annual meeting as they will be voting for the next president. We were both to present a plan at the next Oaxaca pastor's meeting for a Covenant identity class we will offer to young leaders. Nils had plans to continue with Fuentes Libres in their strategic planning as well as attend the Family Development Foundation's annual planning meeting and board meeting. We trust God will be at work in all of these gatherings and know our presence in not indispensable, but we do lament missing out and canceling commitments.
Thank you so much for your faithful prayers for John and for the whole family! We place our hope and trust in Jesus as we join the Apostle Paul in praying…
"Praise be to the God and Father of our Lord Jesus Christ, the Father of compassion and the God of all comfort, who comforts us in all our troubles, so that we can comfort those in any trouble with the comfort we ourselves receive from God. For just as we share abundantly in the sufferings of Christ, so also our comfort abounds through Christ." (1 Corinthians 1:3-5)

Four brothers playing Rook in the Hospital in April