I've really enjoyed reading Eugene Peterson's "A Long Obedience in the Same Direction: Discipleship in an Instant Society" and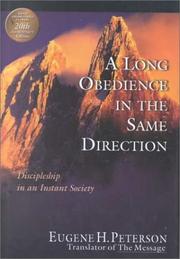 meditating on the Psalms.  If you haven't read it yet, I highly recommend it.  Peterson looks at the old Hebrew Songbook, the Songs of Ascent in Psalms 120-134, which he describes as our best background for understanding life as faith-journey.  It has helped me reflect on my own journey.  The last chapter that I just read called "Perseverance" spoke strongly to me, especially when Peterson says, "The reason my childhood was one enthusiasm after another was that I hadn't yet found an organizing center for my life and a goal that would demand my all and my best".  I don't know much about Peterson's childhood, but as I reflect on mine and my teenage years especially, I can really relate to this.
I believe I've always been in relationship with Christ, having grown up in a strong Christian home and inviting Jesus to come into my heart at the age of six.  However, I believe my understanding of what it meant to be a Christian wasn't really complete.  I would go to God whenever I had a problem I couldn't handle on my own, and God often would answer my prayers, even as unimportant as they would be, like, "Lord, please help me find my car keys somewhere in my messy room because I'm already late for work."  I found them and I felt God's care and presence, but this doesn't exactly demonstrate a deep prayer life.
God was definitely a part of my life, but I'm not really sure he was the center of my life. Peterson says, "The Christian faith is the discovery of that center in the God who sticks with us, the righteous God".  I can't say when this happened for me exactly, and maybe this is true for many Christians, since at first it's really hard for us to recognize that God really is at the center of all things.
Peterson continues, "Christian discipleship is a decision to walk in his ways, steadily and firmly and then finding the way integrates all our interests, passions and gifts, our human needs and eternal aspirations.  It is the way of life we were created for."  This last part brought tears to my eyes because it genuinely describes what I have found in Christ, the joy of becoming who I fully am – the true person God created me to be!  God has given me, and you, particular interests, passions and gifts and is uniting them and opening doors to use them as a blessing, for me and others.  What greater joy in life is there?  Of course, I am still on the journey of really discovering and living freely into who I am in Christ, but my hope isn't in my own ability to accomplish this in myself, but rather, as Paul says in Philippians 1:5, "being confident of this, that he who began a good work in you will carry it on to completion until the day of Christ Jesus."  Hallelujah!  Amen!  Isn't this good news?  Isn't this the life worth living?