Quinceañera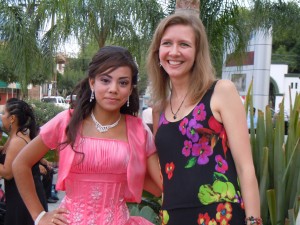 In September, I was able to return to Monterrey for a weekend to attend the quinceañera (15th birthday party) for Abigail.  Abi is part of the youth club at the Family Foundation and was especially close to me as we spent a lot of time together in discipleship and leadership training.  I was very blessed to be able to celebrate with Abi and her family, as well as visit our friends in Monterrey.  It was a quick trip, but it also helped in the transition process for us.
Mexico City
In October I travelled to Mexico City for our quarterly meeting with our missionary colleagues from all three districts.  We had a couple days of excellent discussions, dreaming and planning, especially as we look at our role as missionaries and our relationship with our Mexican partners in ministry.  While I was there I had some extra time to visit with my friend Marisol Martinez and El Pozo, a ministry that provides a refuge and rehabilitation to adolescent girls who have been rescued from human trafficking.
Jóvenes event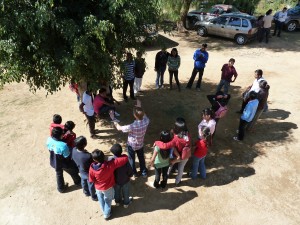 The South District youth committee of the Covenant Church, with the support of our missionary colleague Ben Wickstom, held two full day youth events this fall – one in the Isthmus and one here in the valley.  Together with Ben, I helped facilitate the Bible study time focused on "Como proyectes el amor de Cristo?" or How do you share the love of Christ?  It was a day of games, ice-breakers, lots of fun, laughter and good food as the 50+ teenagers got to know each other.  We also had many good discussions, dramas, and Bible studies centered around the many different ways to communicate the gospel.  We pray for God's leading as the youth continue to plan for this next year.
Violence Prevention Course in Vicente Guerrero
About one half hour outside of the city of Oaxaca is a the community of Vicente Guerrero that was started by squatters living near and working at the garbage dump.  Now it has grown into several communities, all of them struggling economically and with many of the other issues that come along with that struggle, including violence in the home and community.  The young leaders of the Covenant Church located in this community met with me about a month ago asking if I'd be willing to offer the women in the church a Biblically based course on self esteem and healthy relationships in order to work toward preventing violence within the family.  I immediately thought of the material we use at the Foundation called Proyecto Cambio, and I knew it would be a great resource to offer the women.  So, for the last four weeks I've been going out to Vicente Guerrero every Saturday and we are now half way done with the course.  There have been around 12 women participating and it has been a great time of learning together just how much God values us as women and how God also cares deeply about how we relate with one another.