From the earliest days of the ministry of the Family Development Foundation in Monterrey, there has been a strong connection between the FDF and the state of Washington.  Through John and Letha Kerl, the founders of the FDF, there has been a faithful cluster of prayer and financial support tied to the Pacific Northwest.  In October, I had the opportunity to travel with Claudia and Sandra, the new co-directors of the FDF, to visit churches and individuals from Seattle all the way up to Bellingham, WA on the Canadian border.  It was a special chance for Sandra and Claudia to share first-hand how God is working in Monterrey in and through the FDF and especially during this violence-riddent time, and to express thanks to people for partnering with the FDF.
This trip was also an empowering time for all three of us as we were able to participate in a two-day leadership training workshop with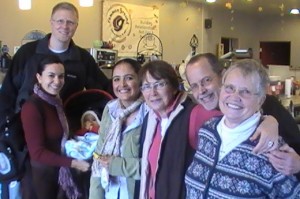 The Pacific Institute.  The workshop, led by Brad Board of Pine Lake Covenant Church, prepared us as leaders to make the most of our potential in our ministry and family lives.
Thank you to Pine Lake Covenant, First Covenant Seattle, Bethany Covenant in Mt. Vernon and Bellingham Covenant for receiving us and for your ongoing partnership with our family as well as the ministries of the Family Foundation.