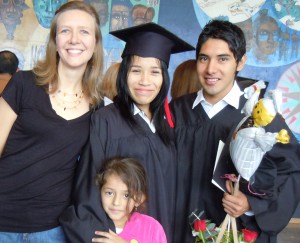 Three years ago, Rosalinda, one of FUNDEFAM's youth group faithful members, shared with Patty Restrepo her strong desire to continue studying high school, but that she didn't have enough money to pay for it.  In Mexico, public school is not exactly free. Even in primary school, there are registration fees, school uniforms, books, and other costs.  And, the expense goes up as you advance to the next level.  At the same time, education is not always a high value among the families we serve.  Rosalinda's parents didn't finish junior high, which is quite common among the families we serve at FUNDEFAM.  Rosalinda, however, was one of the top students in her class and always dreamt of becoming a teacher.
After hearing about Rosalinda's dream and discovering that many others in the youth group shared that same dream and faced the same economic obstacles, FUNDEFAM looked for opportunities to connect with other organizations offering scholarships for teenagers from impoverished communities.  We partnered with two local organizations that offered several scholarships, helping a total of 25 teenagers in the last two years.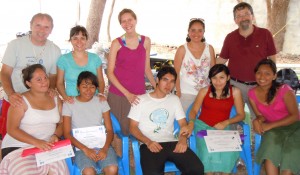 Last weekend, we had a big reason to celebrate because nine teenagers from the youth group, Rosalinda included, graduated from high school and have also been accepted to college!  Since they have kept their grade point average up, and as they continue to do so, they will continue to receive a scholarship throughout college.  Among the group of graduates, they plan to study criminology, education, music, computer science, engineering, interior design, political sciences and international relations.  Keyla, a young woman who already runs a kids' club in her neighborhood, La Campana, plans to study psychology in order to better understand and serve the children living in so much violence.
In order to celebrate, Lisandro Restrepo rented a house outside of the city with a pool, a soccer field and lots of green space where we all spent the day together!  He invited the family of the graduates and all of the teenagers from the youth group to celebrate with us.  Besides a day full of swimming, playing, laughter and fun, we also held a celebration to encourage each of the students in their studies and to thank God for this accomplishment and pray for them as they continue on in their university studies.
We praise God for the dedication and hard work of these teenagers in working toward their dreams!  And we pray that many more would be able to continue in their studies through college and beyond.  Finally, we pray that they would glorify God through their education and career, and that the Holy Spirit would be able to break the chains of poverty and violence from which so many of these teenagers come.