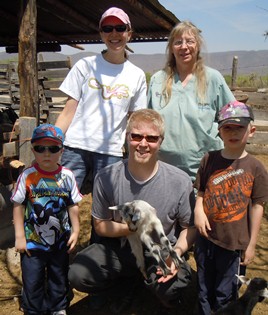 The majority of our ministry is urban-centered; we live in the large city of Monterrey working  in ministries of community development.  So when we have the chance to get out into the country, we like to take advantage of the opportunity.  Especially when it involves visiting with our friends of VetMerge — a  ministry committed to "merging the love of Christ with veterinary Medicine."
VetMerge, led by Lorraine Beaumont from Davis CA (pictured with our family), has been sending groups to the small town of Derramadero in northern Mexico for the last nine years where they transform a local church into a makeshift veterinary clinic, complete with operating rooms and everything.  Families in the area are able to bring their pets to them to receive both preventative and curative care.  Over the years there has been a noticeable improvement in the standard of living for the pets as the owners are enabled to care for them in ways they otherwise could not do.
Additionally, the VetMerge group has a large animal team that visits local ranchers working with them in the care of goats, sheep, horses, mules and cows.  For the ranchers this is a crucial ministry as the health and well-being of their livestock directly effects their livelihood.   For example, the day we visited VetMerge in March, we had the opportunity to accompany them to a small goat ranch.  There they helped the rancher apply a de-worming medication to the entire flock.  By improving the health of his flock, he will have more and healthier kid goats (like the ones in the pictures) to sell during the Holy Week time when goat is traditionally eaten.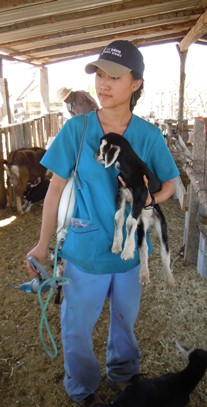 So thanks to Lorraine and her team for allowing us to get out of the city and tag along for a day.  Blessings on your ministry.