Almost every day we receive a visitor to our house. She comes by walking with her nanny and she walks up our front walk in order to greet our little burro flowerpot. Sometimes we hear her in front and have to remind ourselves that Bela is visiting her friend. Many times, however, we have forgot and opened the front door only to later realize that Bela came by. It doesn't really matter to Bela that she doesn't know us and very rarely says hello. She just wants to see her burro friend and then get on with her walk.
We also have three mango trees in our yard that produce a good number of mangos every year. There is one problem, however – Mary Lou has developed an allergic reaction to mangos. So, we don't pick our mangos – but everyone else does to whom we say, "help yourself". As people walk by our house, they often notice that there are mangos laying around in our yard. This causes them to look up into the tree where they see lots of mangos. Then the fun starts. They walk around our yard looking for the good ones that have fallen, they invent ways to bring down the ripe ones from the tree, they even hide some away in one of our flower pots to pick up later on their way back past our house, after they have finished with whatever they were going to do. Some of the workers from other houses in the neighborhood have also been known to pass by in order to get some free mangos as
It is not only the people walking by our house that will stop and take a few mangos. The red squirrels and a few birds also feast on these mangos. Now while the humans take the mangos to their homes to eat or make juice out of, the animals eat the mangos right in the tree. We believe that neither a bird nor a squirrel can eat a whole mango, which means that we get to clean up after them. On a daily basis we sweep the leaves away from beneath the trees and pick up those mangos that are half eaten or that got so ripe that they fall to the ground and burst open. (Unfortunately for our neighbors on one side, they have to do the same as that mango drops fruit and leaves on their driveway as well.
Our office window looks out upon our yard right below the mango tree and our front walk. The people don't see us in our office, but we see them and watch them as they interact with the mangos and as Bela interacts with our burro. It took a little bit of time to get used to so much activity in our front yard, just as it took some time to get used to hearing mangos fall on our roof and realize that it isn't footsteps or anything else, it is just the mangos falling down.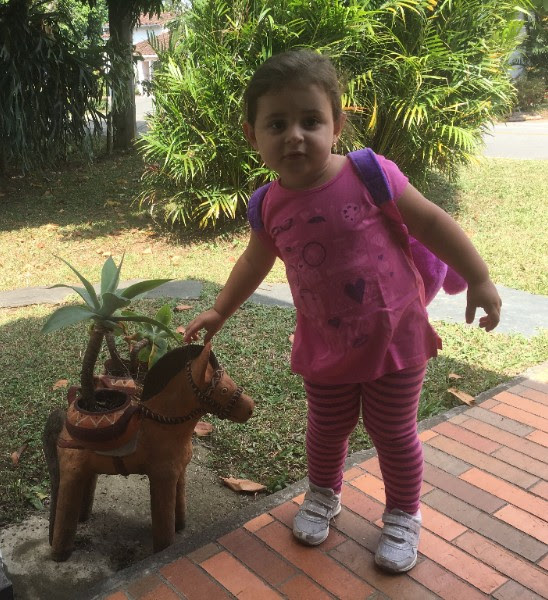 Bela and our Burro
One of our mango trees
     So our burro and our mango trees are ways that we interact and relate to the world around us. Instead of avoiding that interaction or trying to keep people away or keep all the mangos to ourselves, we have tried to embrace the situation and enjoy it. It seems that in various parts of all of our lives we are challenged to interact with the world outside of us. Are we embracing that world and including it, or are we drawing circles to keep that world "out" and us "in"?
Gary and Mary Lou Sander are missionaries serving in Colombia.