This article was originally posted on Ben Wickstrom's blog. Ben is a Covenant missionary serving in Mexico.
Time and time again, I have been shown that true value comes from who I am, not what I do. I have been learning a lot about this point these past years, like my week in Colonia Obrera.
During July, 2013, I stayed in the town named "Colonia Obrera", in the state of Morelos (just a couple hours south of Mexico City).  A group from Parkwood Covenant Church, Villapark, IL, served in Colonia Obrera for one week, and I accompanied them in order to be a translator. The trip was organized through Merge Ministries (the branch of the Evangelical Covenant Church that facilitates and leads mission trips throughout the world), so I worked alongside three ladies from Mexico, who are staff with Merge Ministries.  It was a great week, with so much to share with you:
About the mission team, made up of families from Parkwood Covenant Church (Chicago area);
About our kind brothers and sisters of the Covenant Church in Colonia Obrera, Morelos, Mexico.  This includes the family that hosted me in their house all week;
About what a blessing it was that the couples from Chicago brought their children (ages 6 months – 11 years) to help serve;
About the awesome Vacation Bible School that we led for four days in the town square of Colonia Obrera;
About the different workshops that we led each evening – For Sunday School teachers, for Parents, and about Inductive Bible Studies.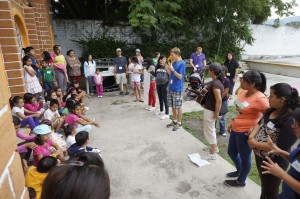 Singing for Christ!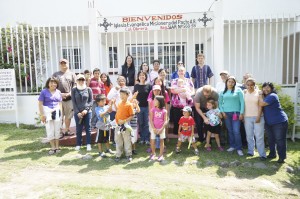 The Parkwood Covenant Church team with friends from Colonia Obrera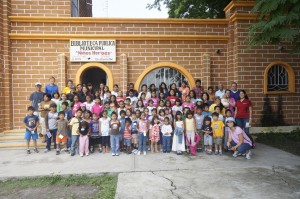 The whole VBS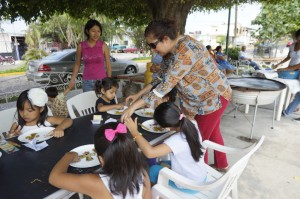 Craft Time!
I could share pages and pages about how God used the Parkwood team to minister in the community last week, about what they did.  There is another piece that sticks out to me even more, though.  Every evening, after the group had gone to the hostel to rest, I had the wonderful opportunity to talk with a different family from the church.  This included my host family, a young man named Ricardo (a former Acts29 student) and his family, and the Pastors' family.  By spending this quality time with them, I was able to get to know them better, share with them about my experiences, tell jokes, discuss faith and the Church, learn from them, and hear their thoughts about the week's activities.  What wonderful people they are, each one, opening their homes to me and letting me invade their lives for an evening,
It's hard to describe how important these times were for me.  I wasn't changing the community or getting my hands dirty.  Coming from a U.S. background, I find myself very focused on doing things – making a difference by leading a game, cleaning a trash-filled park, teaching a lesson, examining someone's vision or health, or like last week, translating from Spanish to English, and visa-versa.  These are not bad actions.  In fact, they can be very beneficial.  But God has taught us, like Paul writes in 1 Corithians 13:1-3, "If I speak in the tongues of men or of angels, but do not have love, I am only a resounding gong or a clanging cymbal. If I have the gift of prophecy and can fathom all mysteries and all knowledge, and if I have a faith that can move mountains, but do not have love, I am nothing. If I give all I possess to the poor and give over my body to hardship that I may boast, but do not have love, I gain nothing., but have not love, I am nothing."
If I teach VBS every week this summer, but do not stop to talk with the kids I am teaching, am I really showing them love?  If I leave a thank-you gift for my host family, but never stop to chat with them and hear their stories and struggles, am I really showing them love?  If I help prepare food and clean up after meals, but never stop to sit and talk with mission team members and church members, is that love?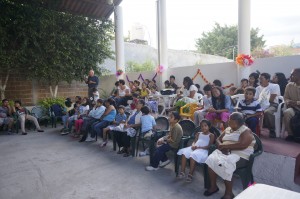 Convivio night at Colonia Obrera Church
These past 2 ½ years, I have come to see and experience even more about what it means to Christ's work in our world.  Like I saw this past week, we can do so many things, but if we do not form relationships, it can all be for not.  I was challenged this week to do just that, to not worry so much about "doing", but "being".  I like to be active and busy.  It's not easy for me to sit for long stretches, so chatting for hours can be a challenge for me.  But each evening lent itself to a different topic and different discussions.  All were great for me, and I hope that they were as beneficial for the others.  Whether discussing a new view of the Christian Church, sharing opinions about music, or talking about missions in general, the love of Christ shown through them and their words.  They accepted me – a young white foreigner – as a brother.  They listened to me and were open to sharing their opinions with me.  They made me feel very loved for being me, not for what I did for them or brought them.  I pray that they can also feel God's love through the times we spent together.  I know for me, the evenings were very special.  Please join me in praying for the church of Colonia Obrera, the members of the church, the children that attended VBS, and for the whole community.